Before you can start cleaning your house properly, you need a cleaning basket. Now, obviously, the cleaning basket is just part of the vintage cleaning closet. The closet also contains other essential equipment and materials. But the cleaning basket is a real timesaver, and one of those vintage housekeeping secrets that helps the '50s housewife to get it all done!
How to Use the Cleaning Basket
The cleaning basket keeps the housewife from having to run back and forth to the cleaning closet, saving time and energy! Along with a cleaning apron, and a large tray or basket for removing misplaced items from rooms, the cleaning basket makes it easy to get things done in an hour or so every day.
An open basket, about 12″ x 10″, and 8″ deep, makes an excellent cleaning basket. It can be fitted with an oilcloth organizer lining, to keep it neat and easy to clean.
Contents of the Cleaning Basket
Whisk broom or upholstery brush — for brushing drapery and upholstery
Small soft brush — for dusting carving, etc.
1 treated dustcloth — for daily dusting
2 cheesecloth squares — for washing and drying woodwork
Cotton waste — for applying polishes and cleansers
1 flannel polishing cloth — for rubbing and polishing
1 cellulose sponge — for washing woodwork, walls, etc.
Art-gum eraser — for removing soiled spots from walls or lampshades
Wallpaper cleaner — dough-type works well
Furniture polish, lemon oil, or furniture wax
Mild scouring powder
Paint cleaner
Carbon tetrachloride
Oil of peppermint
Scissors
And that's the cleaning basket! Just don't forget that there are some newer, safer cleaners that you may want to use instead! (I'm looking at you carbon tetrachloride.)
Trying to Keep All. The. Things Clean?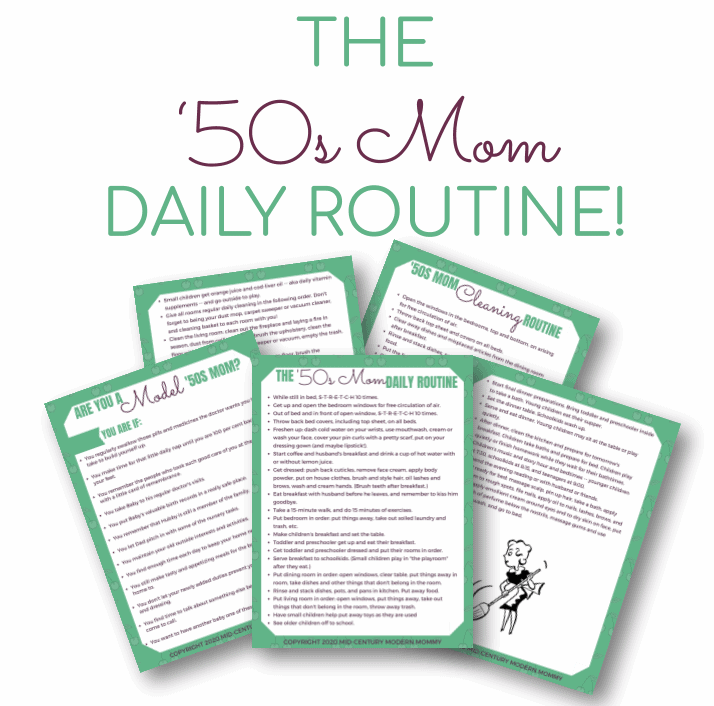 Get Our Mid-Century Mom Daily Routine FREE!