The first baby step for any vintage housewife is to get up earlier than anyone else and take some time to fix herself up. Getting up and getting dressed is the most important step because it does 2 things:
It focuses on self-care.
It sets the tone for the whole day.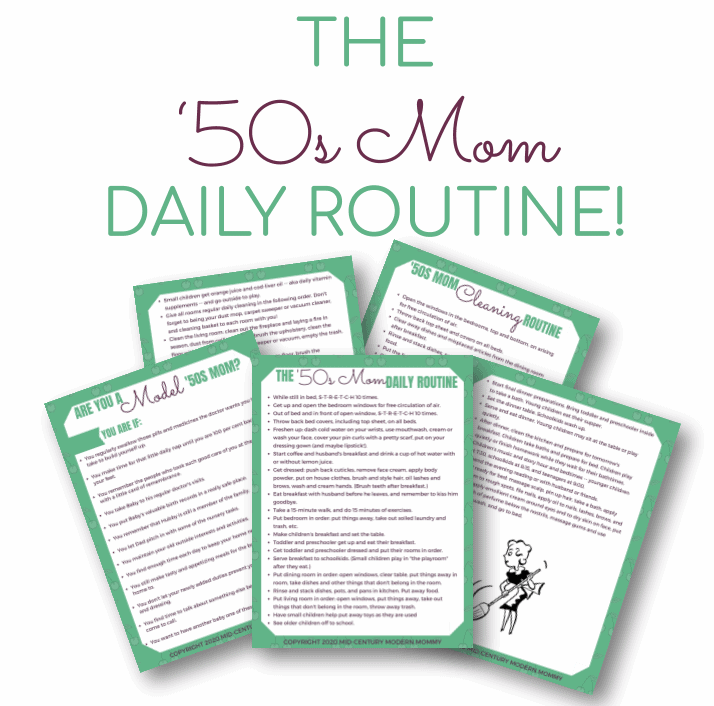 Get The Printable Routine FREE!
Why You Should Get Up and Get Dressed
First, it focuses on self-care. Sometimes you have to take care of yourself so that you have a reserve of positive emotional energy to take care of others. I know this from personal experience. I was horrible and making sure my basic needs were met, and I would get so drained by taking care of my kids that before the end of the day, I would just shut down and not be able to make myself do anything (usually right around when dinner needed to be made).
As an introvert, I also get a boost just from quiet. And I think every mom gets a boost from not being asked a million things by her kids! I need my quiet time to recharge my batteries, and I make a point of taking care of myself first, alone, first thing in the morning, because it makes me feel better all day.
Second, it sets the tone for the day. In my vintage homemaker's books, even babies and bedridden patients get their pajamas changed in the morning and before bed. Changing from what you slept in into something else is a psychological tool to change your thinking, "Here's a fresh start." 
Not only that, but the purpose of dressing and making yourself look good is two-fold. You feel better about yourself. (Make a point of telling YOURSELF that you look pretty when you catch a glimpse of yourself in the mirror!)
You also remind yourself that housekeeping is a JOB. It's a tough, demanding, important, fulfilling job. And it's even harder than being an employee, for the same reason that being self-employed is harder: there's a lot more energy involved in planning and decision-making than in just doing the work.
How I Get Up and Get Dressed Every Morning with a Baby
Right now, I have a baby who still nurses exclusively. I nurse him at 6 a.m. I DON'T get up half an hour before him. Instead, I nurse him for half an hour, and then I change him, put him down in a dry bed, and do my beauty routine.
My older children and my husband (currently) don't really get up until after 7. (I tell the kids to stay in bed until then!) So that gives me an hour mostly to myself. If I needed time without the baby, I'd get up at 5:30, but right now, this is working. It sets the tone for Baby, too, by making sure his needs are met and reminding him that he is loved.
How to Get Up and Get Dressed
This post contains affiliate links. If you click a link and make a purchase, I may receive, at no additional cost to you, a small commission. Find out more on my Disclosures page, and thank you so much for your support!
So, the first step is to know what you're going to wear. I like to have a vintage wardrobe, so I essentially have a uniform. I wear a house dress every day. (If I'm going out I change later. I also change for dinner.) I choose a button-front shirtdress style, because I can nurse a baby easily.
If you don't have a "uniform," then it's a good idea to lay your clothes out the night before. It's easier to decide then, and quicker decisions are housekeeping efficiency.
Another nice thing to have is a housecoat. We don't have central heating in this house, and I wear a housecoat over my housedress all winter when it is cold. I have a couple of nice housecoats that double as hostess gowns, to wear in the evenings when it is cold.
I also prep the coffee maker and lay out my beauty supplies before bed, so I don't have to think about them either. Morning autopilot is a good thing. (I wish I had a vintage vanity, but I don't yet. I use the bathroom sink.)
That's it! Post in the comments how you get up and get dressed!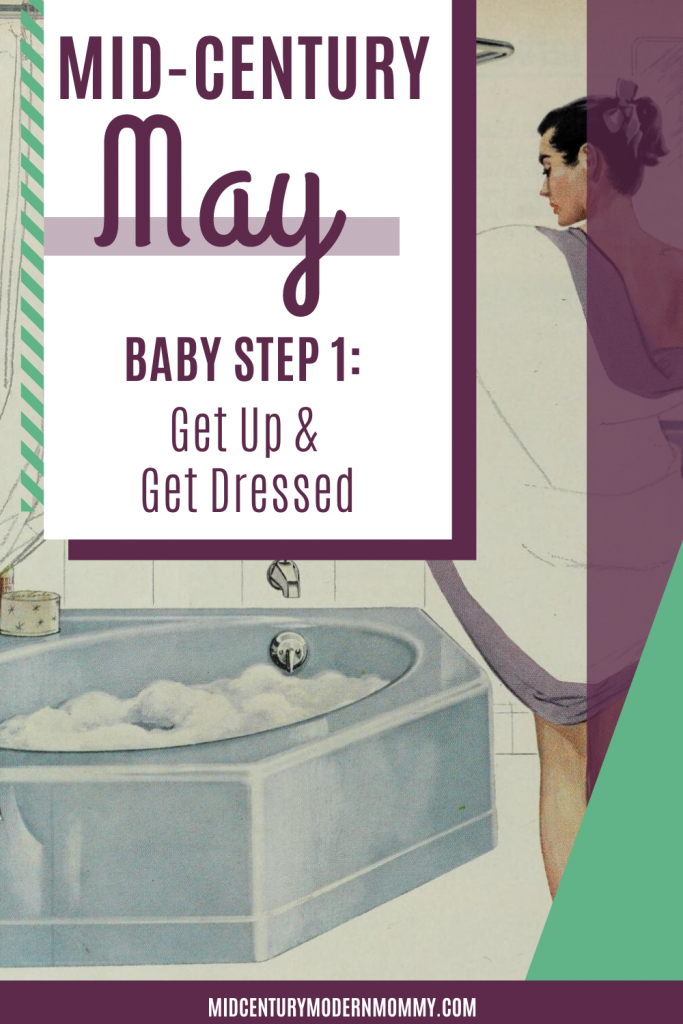 Want More Baby Steps? Sign up Below!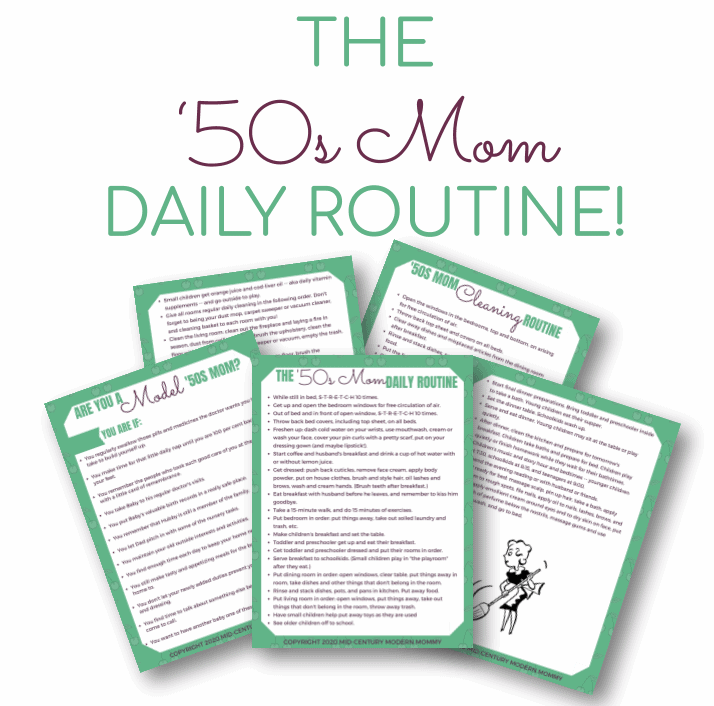 Get Our Mid-Century Mom Daily Routine FREE!