I never knew how to make my living room look clean.
Of course, mostly that's because a cluttered room NEVER looks clean. A room doesn't look clean unless it is spacious and uncluttered.
But even an uncluttered room looks dirty with dusty shelves and filth in the corners. And I just couldn't keep anything clean.
So what changed things? A 1940s cleaning routine for the living room. Finally, I had a real answer for what to clean when. I use these routines as part of my 1940s cleaning schedule, and I don't have to feel ashamed when unexpected visitors show up at the door!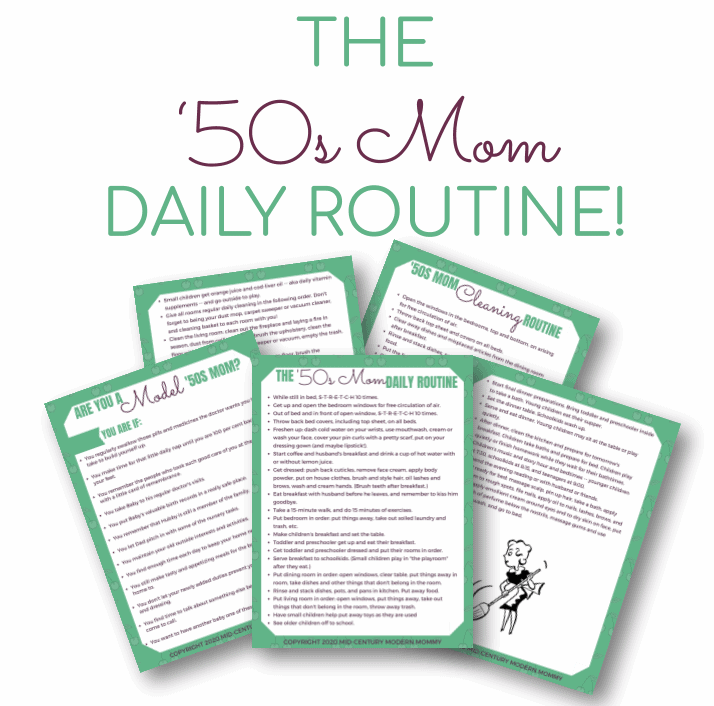 Get Our Mid-Century Mom Daily Routine FREE!
This post contains affiliate links. If you click a link and make a purchase, I may receive, at no additional cost to you, a small commission. Find out more on my Disclosures page, and thank you so much for your support!
Living in the 1940s Living Room
The living room is the room for the whole family to gather in. Even if you have more than one "living room," there will be one room that the family spends most of their time in; a room for quiet recreation, relaxation, study, or rest.
Those who enjoy its restful air should contribute toward maintaining it. Avoid marring it with clutter and confusion. Wide sweeps of empty surfaces hint at possibilities of enjoyment and pleasant pastimes. Clutter inhibits creativity. So does sterility.
Let your living room have the charm of livability. It is not a problem if it is comfortable enough to be lived in, and therefore things get left about occasionally. Just tidy it regularly.
Habits
Teach your family, beginning when your children are young, to be thoughtful enough to put away their things when they are done with work or play. Toys, schoolbooks, projects, ongoing games — leave them out only while you use them.
If everyone helps by tidying the living room and restoring neatness (picking up books and newspapers, emptying ashtrays, etc.) just before bedtime each evening, the housewife will have just that much less to do during the busy hours of the next morning. And the living room will still present a serene face to early callers.
The 1940s Cleaning Routine for the Living Room
Daily Care
Open windows top and bottom for the free circulation of air.
Pick up and replace small articles belonging in the room, such as books, magazines, music, games, victrola records, cards, etc.
Gather up on a tray to take out: used ashtrays, articles belonging in other rooms, plants or flowers to be tended. Collect trash in the wastebasket.
Carry out tray (and put away or take care of everything on the tray!).
Bring in cleaning equipment: hearth broom (if not kept at the fireplace), carpet sweeper or vacuum cleaner (according to need), dust mop, and cleaning basket.
In season, clean out the fireplace, lay fire, sweep hearth.
Dust high objects if necessary: mantels, high shelves, window frames and sills, tops of bookcases, secretary, highboys, etc.
Dust radiator covers if necessary.
Brush upholstery if necessary. Straighten covers. Plump up pillows.
Dust furniture and low objects if necessary. Treat stains or blemishes as they occur.
Dust exposed wood flooring with dust mop if necessary. Use carpet sweeper or vacuum cleaner on rugs or carpets.
Final touches: Straighten draperies, shades, curtains, etc. Take out cleaning equipment and wastebasket. Return clean ashtrays, accessories, flowers, and wastebasket. Close windows if desired
Weekly Care
One day each week additional care should be given the living room. All the jobs listed as when necessary should be done at least monthly, or more often if needed.
Clear surfaces for dusting, removing magazines, covers, bric-a-brac, etc.
Collect lamp bases and globes, bric-a-brac, fireplace fittings, etc. that need washing or polishing.
Bring in cleaning equipment: hearth broom (if not kept at the fireplace), vacuum cleaner and attachments, dust mop, cleaning basket, 2 bowls of clear warm water on a tray. (At least 2 trips will be necessary).
Brush ceilings and walls when necessary.
Dust high moldings, door and window frames, window shades, and Venetian blinds when necessary.
Brush draperies (or use brush attachment of vacuum cleaner).
Dust mirrors, pictures, lighting fixtures, lamps, woodwork; wash any of these articles if necessary.
Dust radiators (covers and coils) or registers; clean thoroughly when necessary.
Brush the baseboards or use the brush attachment of the vacuum cleaner. Dust bookshelves and books as necessary.
Wash windows when necessary.
Remove cushions from upholstered furniture. Use brush attachment of vacuum cleaner on furniture (getting into all crevices) and cushions. Replace cushions.
Dust furniture, rub wood surfaces to polish; apply wax or polish when necessary.
Polish metal hardware when necessary.
Wash glass tabletops.
Remove dust from the floor with the dust mop or vacuum cleaner. Wash floors with waterproof finish with a mop and light soapsuds or a scrub-brush when the floor is soiled. Rewax after washing when necessary.
Use the vacuum cleaner for thorough cleaning of rugs and carpets.
Polish or wash accessories and return to place with other objects removed during cleaning.
Special Seasonal Jobs
At least once or twice a year, special care should be given to the living room. If you don't plan to do a Spring and Fall cleaning, then add these jobs to your list of special cleaning jobs to do on Odd-Jobs day (often Wednesday), and work on them throughout the year.
Collect draperies, curtains, slipcovers, etc. to be laundered on dry cleaned, so that they will be ready to be put back by the time the room has been thoroughly cleaned.
Clean hearth and fireplace thoroughly, including the chimney.
Dust and wash walls (use special cleaner on non-washable walls).
Paint, re-paper, or wax as desired.
Wash or otherwise thoroughly clean window shades, Venetian blinds, etc.
Clean gilt picture frames. Wax or polish wood picture frames.
Remove books from bookshelves and dust. Wash and wax or polish shelves. Replace books. Repair, renovate, or replace books as desired.
Clean, repair, or renovate upholstered furniture by shampooing or dry-cleaning, mothproofing, storing, or changing slipcovers.
Wax, repair, or renovate wood furniture.
Polish, repair, or renovate metal furniture.
Clean, repair, or renovate rugs by shampooing, having professionally cleaned, mothproofing and storing away for the season, or turning.
Clean and renovate lampshades.
Hang clean curtains and draperies. Adjust clean slipcovers. Lay clean rug.
And there's your 1940s cleaning routine for the living room! Just put on a cute apron (affiliate link) and some Glenn Miller (affiliate link), and you're in a timewarp!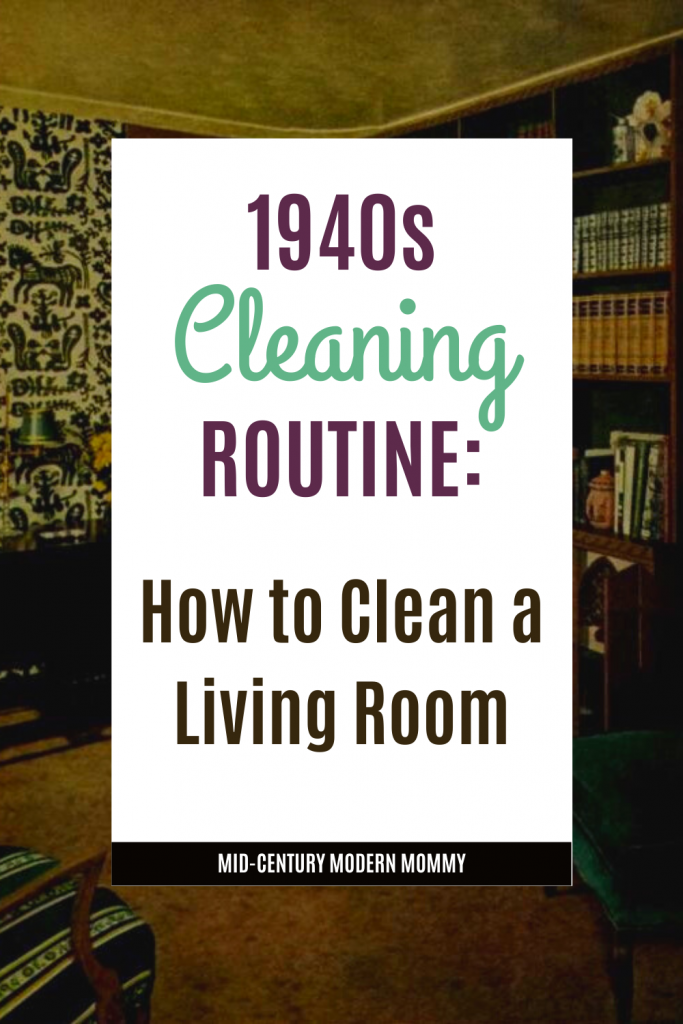 Want More 1940s Cleaning Schedules?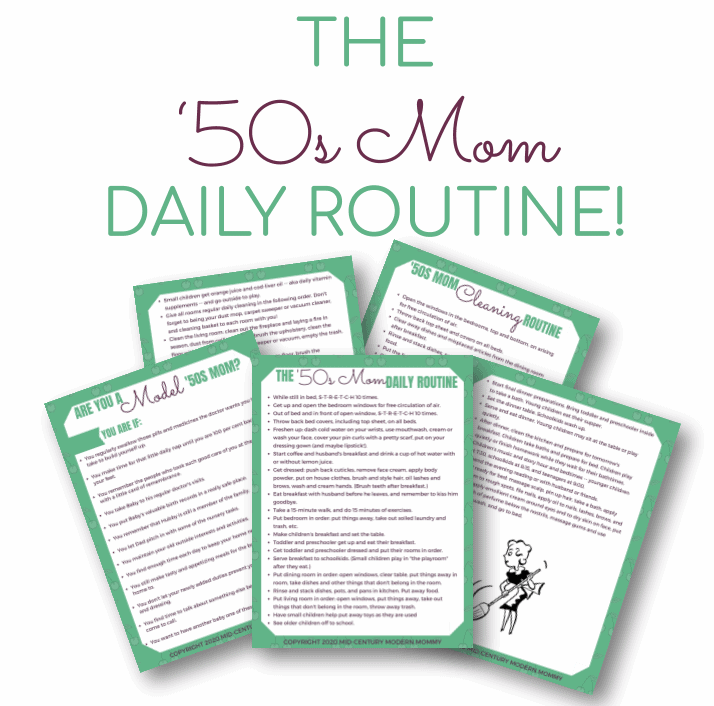 Get Our Mid-Century Mom Daily Routine FREE!