Well, the beginning of this challenge started on a Friday, which is the day to do a thorough cleaning of the living room and dining room. The baby step for Mid-Century May: Day 1 was to get up and get dressed, which I did.
As far as get up and get dressed goes, I am trying to wear skirts and dresses for this challenge. But! I will have to do garden work, and I've been inspired by Jennie at The Ugly Dame, who wears 1940s-style work outfits while farming. (Everything she does with 1940s style inspires me. She's my vintage fashion inspo.)
According to my 1940s books, a housewife needed at least 2 housedresses — even the poor farmwives of Louisiana! But Amy Vanderbilt tells me that a lady has a fresh housedress for every day — and always changes for dinner. She even says that a mother should start by bathing her daughters and putting them in fresh pajamas before nursery supper. That way, they will get the habit of changing before dinner.
I also found the #sewcialdistancing challenge on Instagram, and I'm determined to sew a couple of dinner-at-home brunch coats, and some housedresses and aprons during this challenge. Next year, I want Mid-Century May to include some #thevintagefashionchallenge.
Anyway, tomorrow, I'd like to focus on my vintage daily cleaning routine. Just reading the detailed list of vintage cleaning instructions makes e want to go back to bed sometimes! So it will be a good reminder to work hard.
See you tomorrow, lovelies!
Want to Follow My 50s Housewife Adventures?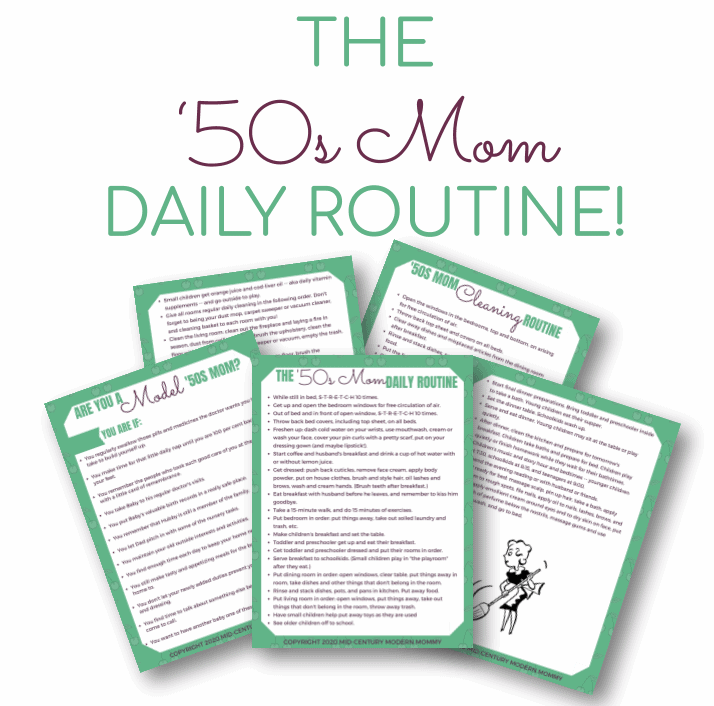 Get Our Mid-Century Mom Daily Routine FREE!