This post contains affiliate links. If you click a link and make a purchase, I may receive, at no additional cost to you, a small commission. Find out more on my Disclosures page, and thank you so much for your support!
In the 1940s, Babies came with instruction manuals!
Well, not really. But the parenting books often included long marvelous lists and ideas and instructions for doing your best for your baby. And many of those instructions involved play.
In the 1940s, mothers weren't expected to entertain their babies, but they were expected to guide their play for better development. For the whole first year, learning, play, and development were all intertwined. Good habits, good health, and discipline were all instilled in babies by their middle-class mothers before the baby had reached his first birthday.
This list of 1940s toys for babies includes descriptions of how to use the toys in child-rearing to promote good development.
1940s Toys for Babies from 3 to 6 Months
Beginning at three months, a baby was considered old enough for toys. Before then, not even a mobile over the bassinet was used. The primary goal was to avoid over-stimulating the baby.
Once Baby began to reach and grasp at things, it was time to place one or two toys in his reach. His first toys, and his only toys for most of the year, were a soft ball, a rag doll (much like a Waldorf doll), a stuffed animal toy for a snuggle, and a rattle.
Beginning at around 4 months, a baby needed a playpen for floor time in the living room or other parts of the house. 
He was put in the playpen for an hour in the morning and an hour in the afternoon to learn sitting up and practice playing. His rattle, his doll, and his ball went in the playpen with him. Sometimes a teething ring was attached to the side of the playpen, but Mom was cautioned to boil it frequently!
His time in his playpen was the first step toward independent play and learning to amuse himself. Once he was in the playpen with his toys he was left alone for the hour, except for necessary care. 
3 to 6 Month Toys (Affiliate Links)
1940s Toys for Babies from 6 to 12 Months
Beginning at 6 months, the 1940s mom procured a highchair for feeding at the kitchen table or a low chair and table to serve meals in the nursery. (She also got a toilet seat for training around now, but don't get one unless it has a seatbelt! Bowel training is usually easiest starting at around 6 months.)
Between 8 and 12 months, your baby will move through the creeping stage. In the 1940s, babies at this stage were given a number of soft rubber balls to chase, and perhaps a few rubber animals to grasp, all of which could be washed frequently. The baby was also given a set of wooden alphabet blocks for stacking, chewing, etc.
The baby also got a playroom, even if it was just a fenced-off corner of the living room. He was only allowed to creep around the house when he was supervised, but in his playroom, nothing was unsafe or off-limits. He also had a set of low, open shelves where he could keep his toys and practice pulling himself up. The previously-mention low table and chair also went into the playroom. The playpen was still used outside unless a small, fenced outdoor pen could be used for time outside.
6 to 12 Month Toys (Affiliate Links)
Child Training in the First Year
Play wasn't the only important task facing the mother. Middle-class mothers crammed a lot of learning into baby's first year. In addition to schedules beginning by 1 month, the experts told Mom to wean between 8 and 12 months and begin potty-training at 6 months. Discipline began in the creeping and pulling-up stage by teaching the baby not to get into things on tables and shelves. And Mom was told to feed Baby his meals alone before the rest of the family ate, so he didn't develop bad habits.
Actually, all of these ideas are still excellent ways of raising your baby in the first year. But don't forget to enjoy your baby, too! Take delight in your chubby, gurgling sweet bundle, and take time to enjoy watching him learn and grow! Add some time each day with a picture book, and make sure to get some snuggling and hugs in as well!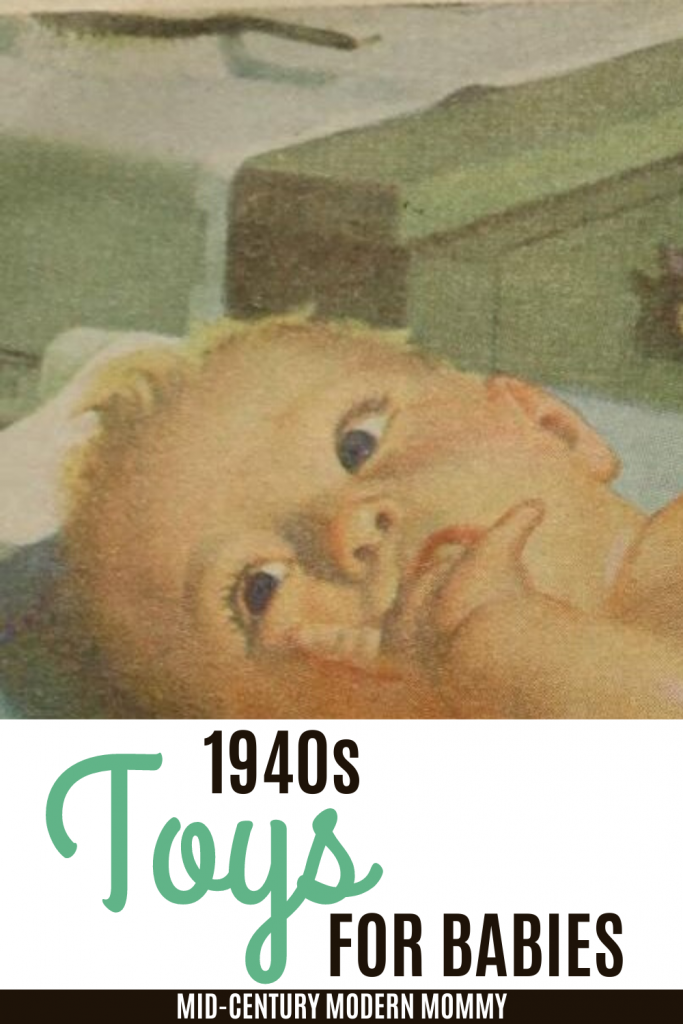 Want more Vintage Schedules?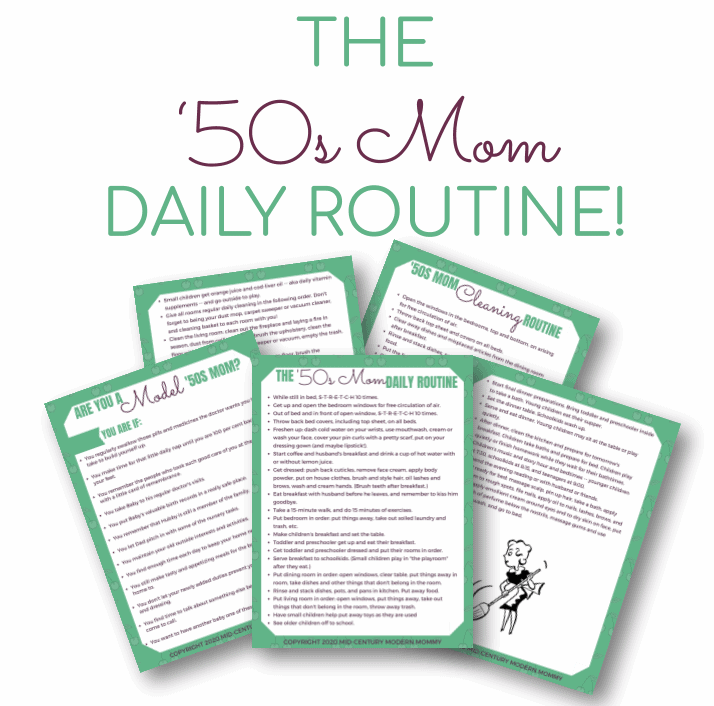 Get Our Mid-Century Mom Daily Routine FREE!