Planning for a Busy Vintage December
Once again, it is time for the famous (infamous? no, no, definitely not!) Very Vintage December Challenge! Time to Jingle Bell Rock! As an overview, each day, I will be doing a vintage homemaking activity from the Betty Crocker Country Kitchen Almanac from 1958.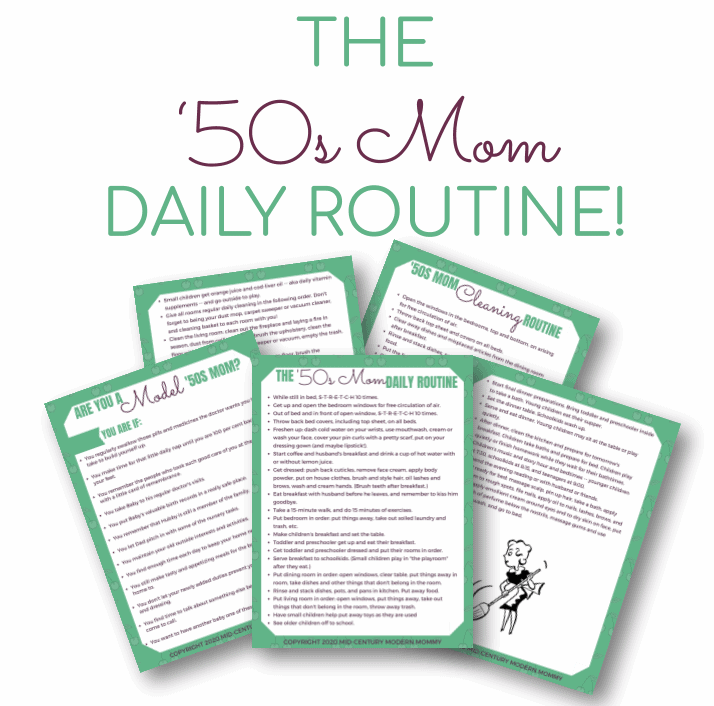 Get Our Mid-Century Mom Daily Routine FREE!
This post contains affiliate links. If you click a link and make a purchase, I may receive, at no additional cost to you, a small commission. Find out more on my Disclosures page, and thank you so much for your support!
Get Your Christmas Chores Done Early!

Today's project is to get the planning done. Address your cards, fill out your lists ("He's making a list, checking it twice . . .") — it's all about planning ahead.
So what does planning ahead look like for Christmas? The main things to do are:
Address your Christmas cards and mail them.
Make out gift lists.
Make a menu plan for the month.
Make out a housekeeping list for the month.
Plan out your decorating.
Finish planning the Christmas parties.
Make shopping lists.
Some things should already be done:
Order holiday cards and invitations. (October)
Finish purchasing holiday gifts. (November)
Send out invitations for your holiday party. (Before Thanksgiving)
Put together your holiday capsule wardrobe. (November)
Make or buy your hostess outfit and your holiday party dress. (November)
Check winter sports equipment (November)
Address Your Christmas Cards
My vintage Social Arts course says that you should purchase your Christmas cards and finish your gift shopping in OCTOBER. I've never managed that, honestly. So I follow this Betty Crocker list. My cards are ordered, and I spent time over the Thanksgiving weekend writing them. They are ready to go out, so I'm addressing them today. I discovered the Retro Christmas Card Company this year, and I LOVE. THESE. CARDS. Seriously, get yourself some. They make your holiday season a little bit brighter; they are SO STINKIN' CUTE!
Make Out Gift Lists
I don't make gift lists for my immediate family. Instead, I buy everyone something cute to wear, a book, and a "toy." Then I buy a couple of movies or TV seasons and some board games for the whole family to enjoy on Christmas break. I also buy a book for each cousin (there are fewer cousins than there are kids in my family . . .).
For everyone else, including my extended family, I make gifts of food. Mostly, I make candy. So few people make real homemade candy nowadays. Most people are delighted and intrigued by homemade truffles, mint-filled chocolates, caramels, toffee, fudge, and marzipan.
I also make bread. Whenever I go visiting, I bring loaves of homemade bread as hostess gifts. Hostess gifts are old-fashioned — but I love them! During the month of December, I bake an extra batch of bread every day but Sunday — 2 extra loaves a day. I freeze them and use them as hostess gifts later.
My father was a postman, and used to receive gifts of food. I try to continue that tradition, so I either give the homemade bread loaves, or I make gift tins with cookies or candy. I give them to all my delivery drivers and repair workers who come through this month.
Finally, I bake all the way through Advent and put the treats away until Christmas. I try to do a batch of treats every day except Sunday. Everyone gets to taste one before they are put away until December 25th.
Make a Meal Plan for the Month
This is a really important part of my planning. My 1959 Woman's Day Magazine prefaces its December meal plan by saying, "It takes time to plan meals that are nutritious and interesting and economical too. But time is the thing most people have least of in December. That's why we like to think of this month's meals as your very first Christmas gift and a combination gift at that: extra time during the very days when you need it most and, along with it, peace of mind because your family is being well fed."
That is exactly what my meal plan represents: time that I gain each day by not having to stop what I am doing and switch tasks to make three meals a day. Having a good plan is the first step to getting everything done when you have little or no extra time.
Make a Monthly Housekeeping Plan
Unlike most months, the housekeeping in December is just the basics: daily cleaning chores in the morning, weekly chores on weekdays. I leave out all the other stuff. So if you're following the 1940s cleaning plan, you're in good shape for guests!
Plan Out Your Decorating
When I was young, there was a series of books called Spirit of Christmas, by Leisure Arts. The books had themes, with instructions on how to carry out that particular theme in decorating. I adored the ideas of themed Christmases, so I was thrilled when Have Yourself a Very Vintage Christmas (yes, my challenge is named after the book) informed me that the 1950s saw the birth of the themed Christmas.
Better Homes and Gardens recommends that you choose one theme and carry it throughout the house, in their 1957 Christmas Ideas special issue. They give an example of a couple that used a leaping reindeer and the colors of gold and green to create a house-wide decorating scheme.
As for me, I have a husband and children who love video games, Star Trek, and Futurama. So, this year, I am doing an Atomic Age/Mid-Century Modern theme.
Now, since we've been celebrating as a family for so many years, Christmas is a FAMILY holiday. Even though I want to have themes, I CANNOT just wholesale change everything that makes memories for my children. So some things are always the same: colored lights and chili pepper lights on the tree for my husband; a stuffed-toy nativity from my childhood; mid-century Christmas elves that I inherited; and a collection of favorite ornaments that my children want to see year after year. Even with a theme, those things stay the same, no matter what.
Finish Planning Your Holiday Parties
If you read my Thanksgiving ebook, you saw the kinds of lists that are recommended for throwing a party like a 1950s hostess! You'll need to plan the guest list and the menu, then make out the shopping lists, not forgetting flowers, candles, and little extras like mints and nuts.
According to my 1950s gracious living course, you should host your open house/cocktail party in the first couple weeks of December, before the rest of your "set." And you should send out the invitations three weeks before. So, for convenience's sake, I hope you've already sent out those invitations. If you haven't, get them out today!
Make Your Shopping Lists
These are not only the usual shopping lists. You should have marketing lists for:
Your monthly meals
Your parties
A "party" or "emergency" shelf with things for company-ready dinners (which you should also be feeding your family; your family deserves as good as or better than company– manners as well as meals), quick appetizers for unexpected guests, and simple but special snacks and desserts.
A baking shelf, with supplies for cookies, cakes and cake decorating, candy making, etc. Remember to include things like mincemeat, cherry pie filling, and baking chocolate!
Evergreens, poinsettias, and other fresh greenery and flowers for decorating
Candy and nuts to keep out (cigarettes, too, if you're that much of a '50s housewife!)
Any last gifts and stocking stuffers
Supplies for any DIYs and crafts you are making
Supplies for wrapping gifts
And yes, I actually do make up ALL of these lists today, just so that I don't feel stressed out later in the month. I already made lists and stocked up on guest room supplies, toiletries and cleaning supplies, and emergency essentials for light, heat, and food in case of power outages. I try to get those things in November, so that I don't stress out my December budget too much.
That's how I plan for December! Now I'm off to think about the holidays! If you liked this, you may want to try: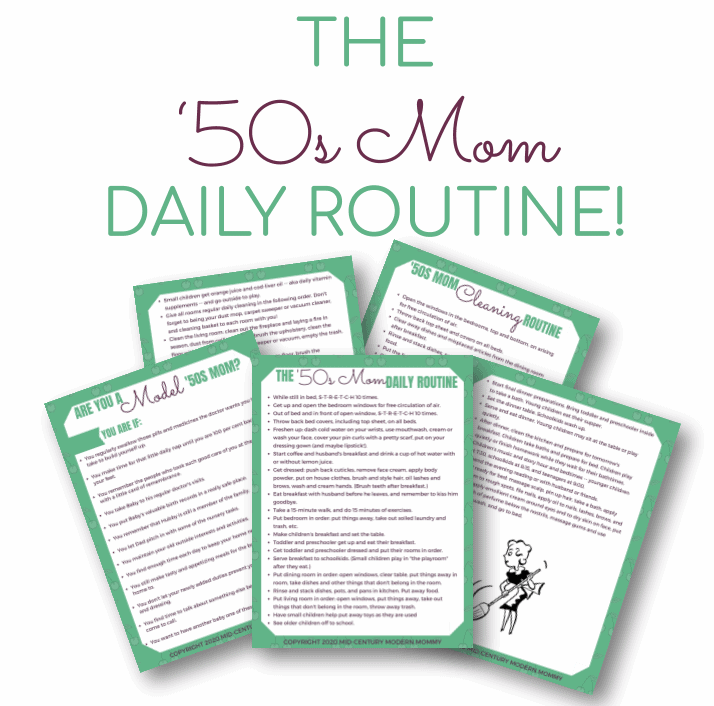 Get Our Mid-Century Mom Daily Routine FREE!