This post contains affiliate links. If you click a link and make a purchase, I may receive, at no additional cost to you, a small commission. Find out more on my Disclosures page, and thank you so much for your support!
Happy Thanksgiving Week! I love Thanksgiving, and every year, I make a giant vintage dinner — appetizers, turkey, 8-10 sides, pie. I do it pretty much all myself, although I finally have teenagers old enough to help, thank goodness! Anyway, for this week, we all still have to eat (and eat, and eat), so here are my weekly dinner menus for Mid-Century Menu Monday — Thanksgiving week style!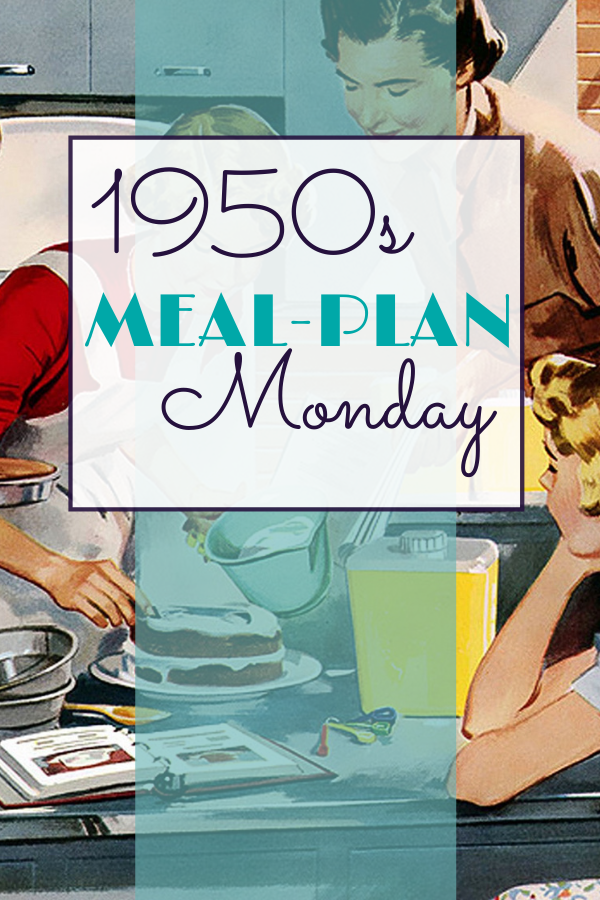 Mid-Century Menu Monday Dinners for Thanksgiving Week
Monday
Swiss Steak (Not casserole this week!)
Fluffy Rice
Green Peas
Dinner Rolls
Apple-Celery Salad
Miracle Spice Cupcakes and Creamy Frosting
Tuesday
Broiled Chicken
Baked Stuffed Potatoes
Acorn Squash Rings
Plain Rolls
Mushroom Salad
Cranberry Cake Roll
Wednesday
Stuffed Acorn Squash
Scalloped Potatoes
Green Beans Parmesan
Plain Rolls
Pumpkin Custard and Snickerdoodles
Thursday — Thanksgiving!
In the Living Room:

Tomato juice cocktail
Braunschweiger Olives
Stuffed Mushrooms

At the Dinner-Table:

Roast Turkey with Giblet Gravy and Bread Stuffing
Mashed Potatoes
Puffy Mallow Sweet Potatoes
Green Beans de Luxe
Baked Onions Deluxe
Custard Corn Pudding
Old-Fashioned Pan Rolls and Butter
Jellied Cranberry Sauce
Raw Relishes
Cranberry-Pineapple Relish

Afters:

Pumpkin Pie and Pecan Pie with Cream
Mixed Nuts
Coffee
Friday
Turkey Hash
Scalloped Vegetable Casserole
Spicy Peach-Cranberry Ring
Filled Rolls
Baked Apples
Saturday
Creamed Turkey De Luxe
Fluffy Rice
Broccoli with Cheese Sauce
Dinner Rolls
Relishes
Pumpkin Pie
Sunday — The First Day of Advent
Old English Spiced Cider
Roast Turkey with Giblet Gravy
Baked Sweet Potatoes
Buttered Green Beans
Glazed Small Onions
Speedy Whole Cranberry Sauce
Crescent Rolls
Celery and Carrot Sticks
Mince Pie with Cream
Notes for This Week's Mid-Century Menus
Before you ask: yes, I make all of that for Thanksgiving. Yes, I am almost 9 months pregnant, but my teenagers will be helping me. I do all the prep on Tuesday and Wednesday, then Thursday is an assembly line of cooking and dishing up. I plan on at least 12-15 people, and I use vintage recipes that serve 6-8, so I double all the recipes, and make a 20+ lb. turkey. Yes, I use all vintage recipes, also — the recipes I'm using this year are all from the 1955 edition of the Good Housekeeping Cook Book. (The Sunday menu is straight out of Good Housekeeping Magazine from the 1940s. Yes, I repeat the turkey on Sunday for more leftovers.)
If you would like, you can check out the rest of my mid-century dinner menus. And if you make the menus, share a pic on Instagram and tag me! (Are you following me on Instagram? I share a lot of vintage homemaking quick wins over here!)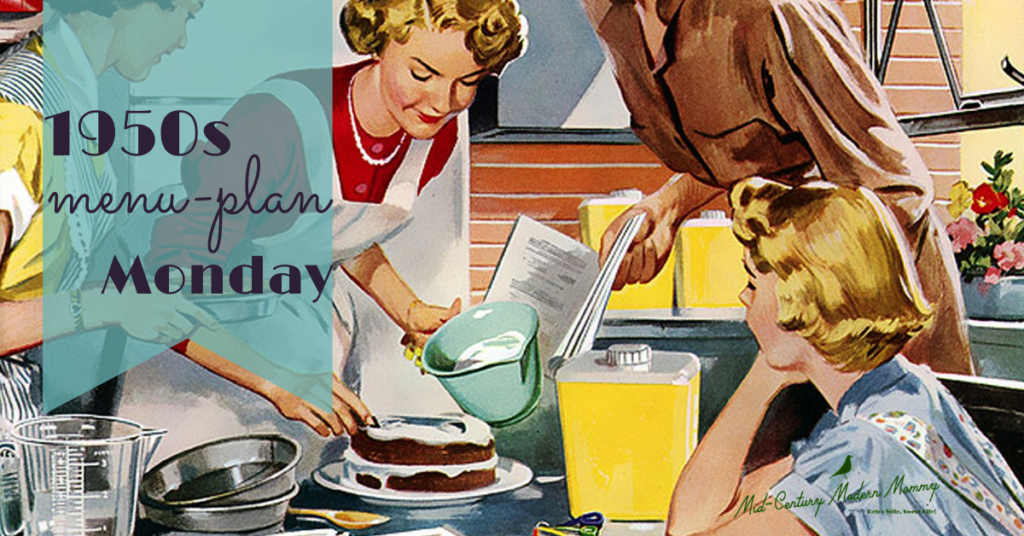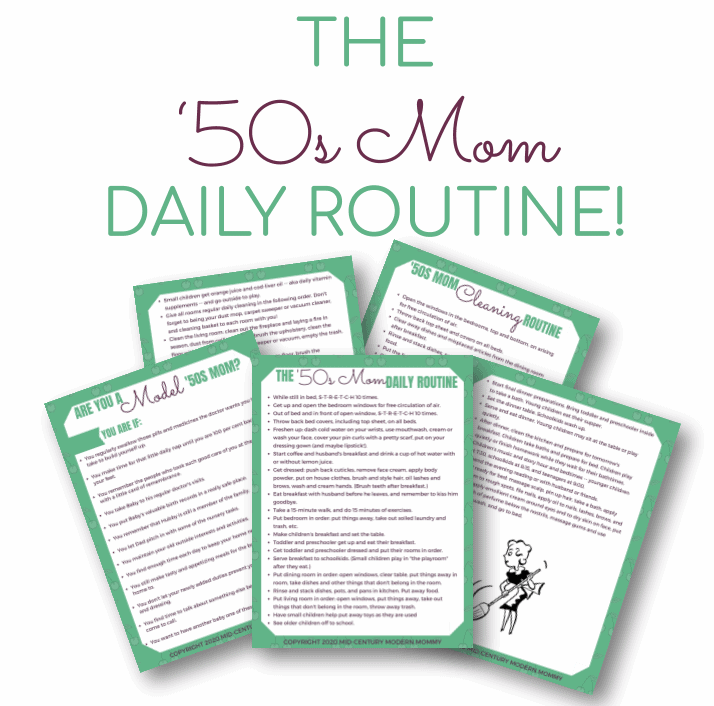 Get Our Mid-Century Mom Daily Routine FREE!