I see a lot of people who wonder how to build a vintage capsule wardrobe. Here, I am showing how to design a '50s housewife capsule wardrobe. This is going to be a slightly different capsule than, say, a 50s college girl would have had. But it does show what was considered an adequate basic wardrobe to cover all a woman's fashion needs.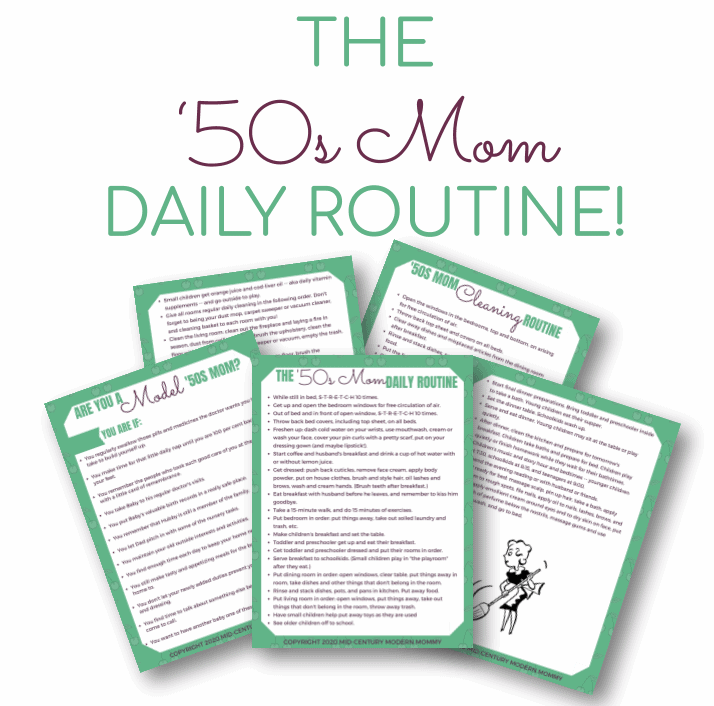 Get Our Mid-Century Mom Daily Routine FREE!
This post contains affiliate links. If you click a link and make a purchase, I may receive, at no additional cost to you, a small commission. Find out more on my Disclosures page, and thank you so much for your support!
Foundations of the Vintage Capsule Wardrobe
The foundations of the vintage capsule wardrobe are underpinnings (slips, panties, etc.), corsetry (shapewear), and housedresses.
Underpinnings
The standard underpinnings are brassieres, tap pants (or "big panties"), garter belts, slips, and teddies or rompers. Everyone knows the bullet-bra-and-corset "sweater girl look of the '50s; the '40 had a more natural silhouette.
The usual recommendation is to have 4 pairs of panties, 4 slips, 1 black and 2 half slips, and 3-4 pairs of stockings. If your bras and garter belts aren't shapewear, then you should have 4 bras, 1 black, and 2 garter belts. Everything should be washed by hand after you wear, usually in the evening before bed so it can dry overnight.
Corsetry
There is also corsetry. Girdles, waist cinchers, panty girdles for sports, and all-in-ones were common.
I actually prefer a corset, because after 8 children it really helps with back support while I do housework! (I don't lace it particularly tightly though.) Also, I wear what used to be called a pregnancy corset, and is now a therapeutic pregnancy girdle, when I'm pregnant. It helps with my tendency to premature labor.
Since I have a fuller figure, when I am dressed to go out, I wear a longline bra and high-waist girdle or an all-in-one corslet with extra waist shaping (all affiliate links).
The recommendations for shapewear were 4 bras, 1 black, 2-3 girdles, and 1-2 corslets. Shapewear was also washed by hand, and special laundering instructions were included in every housekeeping manual.
The way to wear shapewear is to dust yourself with baby powder or body powder, add bra and garter belt (or girdle), put on any other shapewear, and then put on your slip and panties to smooth out the bumps. Stockings go on last.
Housedresses
Finally, there are housedresses. There are a couple of types of housedresses, and NONE of them were meant for the public. (Although visitors could see them, occasionally!)
First, there were work dresses. These were usually a button-front shirtwaist style (better for nursing a baby!) and had a belt or waist ties attached (to cinch them in when you weren't pregnant or let them out if you were). They were about knee-length or calf-length, and they had an a-line or wider skirt to make it easy to hurry about and get things done.
There were also brunch coats or hostess gowns, which were longer, usually floor-length, and were meant for wearing at home for dinner with the family, or entertaining intimate friends at home. Women were taught to change for dinner in most families, and the practice began by bathing and changing little girls into clean, pretty nightgowns before nursery supper when they were babies.
And of course, aprons were also part of a housewife's foundation wardrobe. She had kitchen aprons, cleaning and laundry aprons, and hostess aprons. Hostess aprons are the cute, frilly, flashy kind. Other aprons tend to be pretty but practical and meant for work. Kitchen aprons and cleaning aprons were kept separate, just like kitchen linens and cleaning rags — they weren't even washed together by conscientious housewives.
Amy Vanderbilt specifies that a housewife with class ALWAYS wears a clean house dress and underthings. Even poor farmwives had at least 2-3 house dresses so that they could wash them out by hand in between wearing. 3-5 is the usual recommended amount.
The Core of the Vintage Capsule Wardrobe
The vintage capsule wardrobe from Secrets of Charm by John Robert Powers revolves around having a basic coat, basic suit, a day dress, an after-five dress, a sporty-casual dress or separates, and a basic hat, and 3 sets of basic accessories.
The key to the vintage capsule was that all the different parts were color-coordinated in your personal neutrals and fitted to your figure. The accessory sets consisted of hat trimmings, blouse, sweater, gloves, shoes, and bag. 1 set dresses up your daytime basics, 1 set created a more casual, sporty look for your daytime basics, and 1 set dressed up your after-five dress and your suit for a glamourous evening look.
With this method, you'd have a capsule wardrobe for each season of about 15-20 pieces, but you'd be able to create dozens of different looks. Of course, you also needed to plan your color scheme carefully, so that you could acquire and replace pieces without disrupting the overall look. Also, you had a separate summer and winter wardrobe, and your lighter summer basic coat needed to be able to be used with your warmer winter things during the transitional spring and fall seasons.
The method for planning was to decide on the color of your next winter's coat, based on your personal best colors, and build your winter wardrobe around that. Then, choose the color of the summer coat so it matched, and plan the summer wardrobe around that.
Adding to the Capsule wardrobe
Of course, you may need to adapt your wardrobe further to suit your particularly wifely role. Different situations in life call for different additions to the core capsule wardrobe.
Country/Suburban Housewife
Classic runabout wool dress or separates
3 all-purpose summer dresses
Storm gear
Work clothes to suit your preference — think colorful denim
Lounging clothes — pretty for your family
Hostess after-five — soft and colorful
Active sports/play clothes, as required
Evening wear, as required
City Housewife
Work clothes — the kind that can answer the door with no apology
Lounging clothes — high fashion
Hostess after-five — sleek
Active sports/play clothes, as required
Evening wear, as required
Career Woman
Tailored wool dress
2 tailored summer dresses
Storm wear — a costume, not a hodge-podge
Lounging clothes — sufficiently impersonal for entertaining
Active sports/play clothes, as required
Evening wear, as required
Career-Homemaker
Tailored wool dress
2 tailored summer dresses
Storm wear — coordinated costume
Homework clothes — bright dusters are wonderful
Lounging — casual separates
Hostess after-five — feminine
Active sports/play clothes, as required
Evening wear, as required
Socialite
Formal daytime costume — a dressy suit
At-home clothes — hostess and lounging costumes
Country tweeds
Sport and play clothes
Dinner suit
Evening dress and wraps
And there you have the vintage capsule wardrobe, with some appropriate embellishments for your housewife life!
What kind of housewife Do You Want to Be?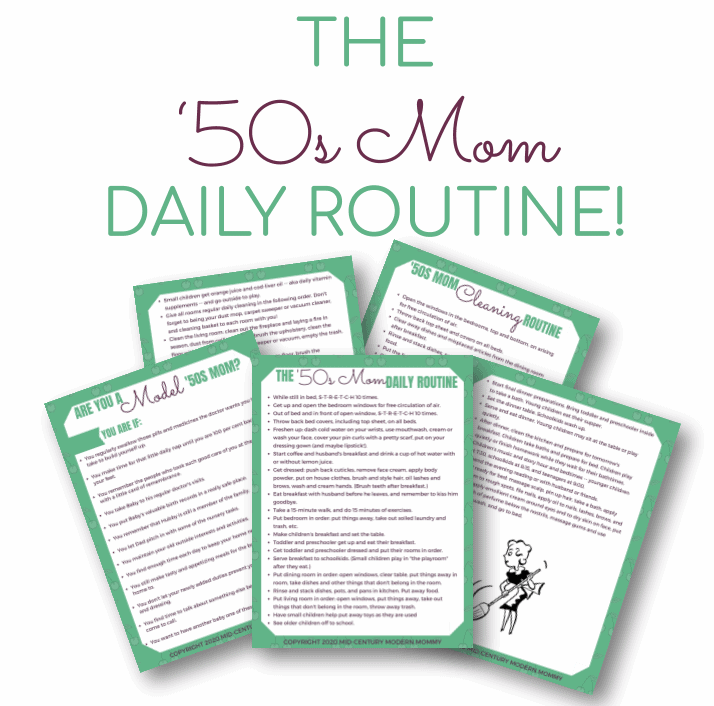 Get Our Mid-Century Mom Daily Routine FREE!