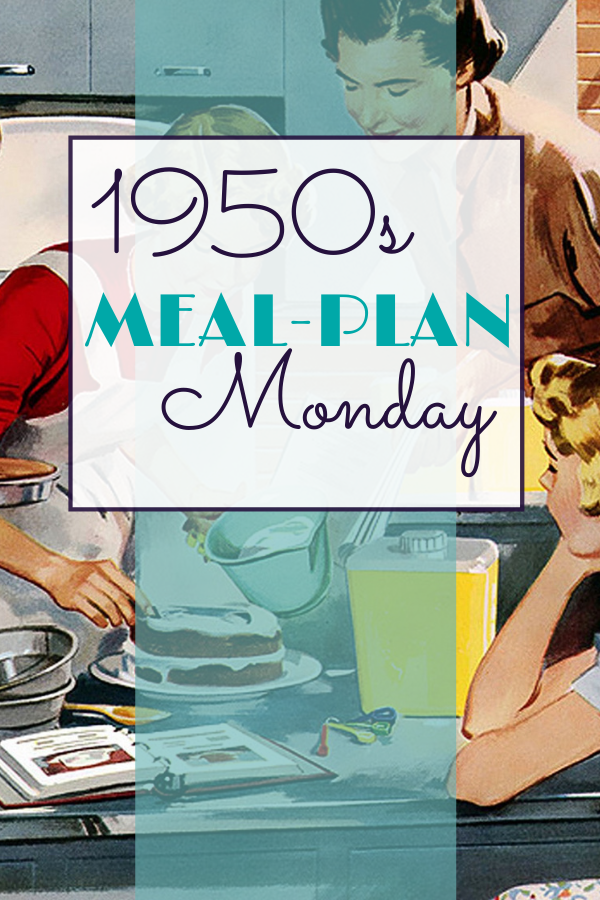 This post contains affiliate links. If you click a link and make a purchase, I may receive, at no additional cost to you, a small commission. Find out more on my Disclosures page, and thank you so much for your support!
Hello! It's the second week of December already! This ended up late, because I spent WAY TOO MUCH TIME diving into rabbit holes, looking for the Betty Crocker's Frankly Fancy recipe booklet from 1959. I thought it would be fun to coordinate my menus this week with the 1959 Holiday Almanac for my Very Vintage December Project, but that led to "Frankly Fancy," which led to . . . rabbit holes. Anyway, here're my dinners for Mid-Century Menu Monday, December 9-15.
Mid-Century Menu Monday Dinners
Monday
Gougeres
Zesty Pork-Chop Bake
Oven Dinner Rice
Tomato-Cheese Casserole
Savory French Bread
Dunk-It Salad
Baked Lemon Cake Pudding
Tuesday
Chicken Livers with Rice
Stuffed Baked Squash
Pickled Pineapple Bake
French Half-and-Half Bread
Tomato Aspic
1-2-3-4 Cake
Wednesday — Birthday!
Gougeres and Tomato Juice cocktail
Broiled steak
French Fries
Buttered Peas
Garlic Bread
French Green Salad
Devil's Food Cake with Fudge Frosting and Ice-Cream Snowballs
Thursday
Spaghetti with Italian Sausage Sauce
Tossed Green Salad
Junior Loaves with Garlicky Spread
Fruit Compote Topped with Lemon Sherbet and Susan's Coconut Refrigerator Cookies
Friday
Easy Broiled Fish
Golden Noodles
Broccoli with Mustard Sauce
Hard Rolls
Spiced Canned Purple Plums
Christmas Tree Cakes
Saturday
Ginger Ale Cocktails and Hot Cheese Dip
E. I.'s Swedish Meat Balls
Tomato Ring Filled with Vegetable Salad
Toasted Celery Rolls in Loaf
Old English Spiced Cider
Meringue Kisses
Sunday
Christmas Cheese Ball ('tis the season) and Fruit Juice Cocktail
Pot Roast of Beef with Wine
Savory Mashed Potatoes
Small Whole Carrots
Speedy Pickled Pears
Crisp Rolls
Green Salad Bowl
Mallow-Cream Whip
Breakfast and Lunch Bonus For December's Mid-Century Menu Monday
Monday
Breakfast
Grapefruit juice
Hot oatmeal
Shirred eggs
Cranberry Muffins
Lunch
Vegetable-Beef Soup
Cheese-spread sandwiches
Pickles
Apple turnovers
Tuesday
Breakfast
Sliced oranges
Cream of Wheat
French Toast
Canadian bacon
Lunch
Creamy potato soup
Toasted peanut-butter-and-bacon sandwiches
Spiced Fruit Cocktail
Wednesday — Birthday!
Breakfast
Tomato Juice
Cream of Rice with Raisins
Scrambled eggs and bacon
Waffles
Lunch
Crab-Cheese Bisque
Toast
Pickles
Red Sundae
Thursday
Breakfast
Orange juice
Malt o' Meal with sliced bananas
Soft-boiled eggs with toast fingers
Lunch
Chicken Noodle Soup
Scrambled Eggs and toast
Fruit gelatin
Friday
Breakfast
Broiled Grapefruit Halves
Oatmeal
Poached eggs on toast
Lunch
Tomato soup
Tuna melts
Potato chips
Chocolate pudding
Saturday
Breakfast
Grapefruit juice
Farina
Biscuits and sausage gravy
Pull-Apart Coffee Cake Wreath
Lunch
Minestrone vegetable soup
Grilled franks with cheese
Green salad
Doughnuts
Sunday
Breakfast
Orange juice
Oatmeal
Baked apples
Ham and eggs
Waffles
Supper
Clam chowder
Toasted cheese-bacon-lettuce sandwiches
Pickles
Gingerbread
As always, meals are accompanied by milk and coffee or tea. Other than breakfast, juice is drunk as a dinner cocktail. Bread with cheese, jam, or fruit is served with a cup of milk at 3:00 for all the children. And, my husband and teenagers are grateful that I am finally getting better at providing nibbles before dinner while the preschoolers are eating supper in the kitchen.
If you would like, you can check out the rest of my mid-century dinner menus. And if you make the menus, share a pic on Instagram and tag me! (Are you following me on Instagram? I share a lot of vintage homemaking quick wins over here!)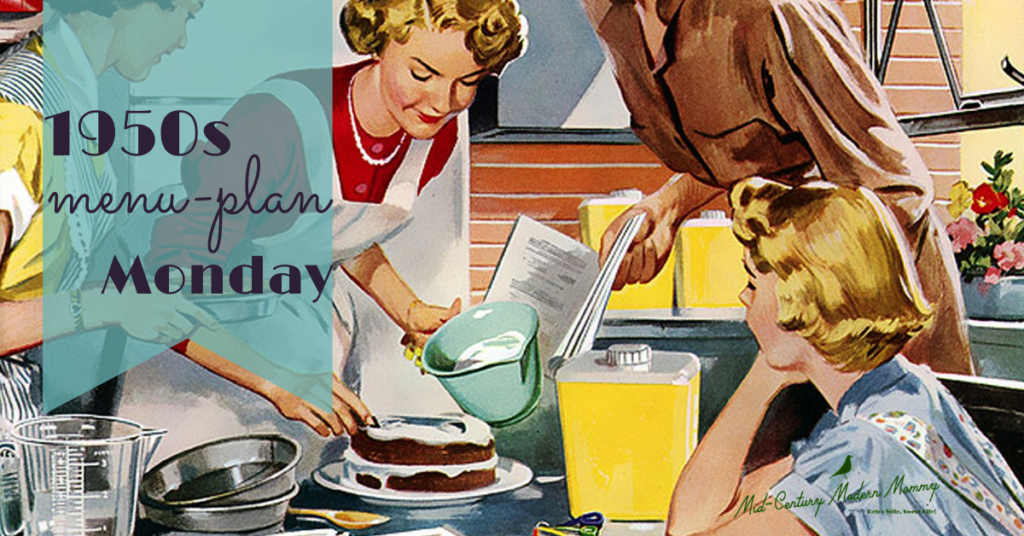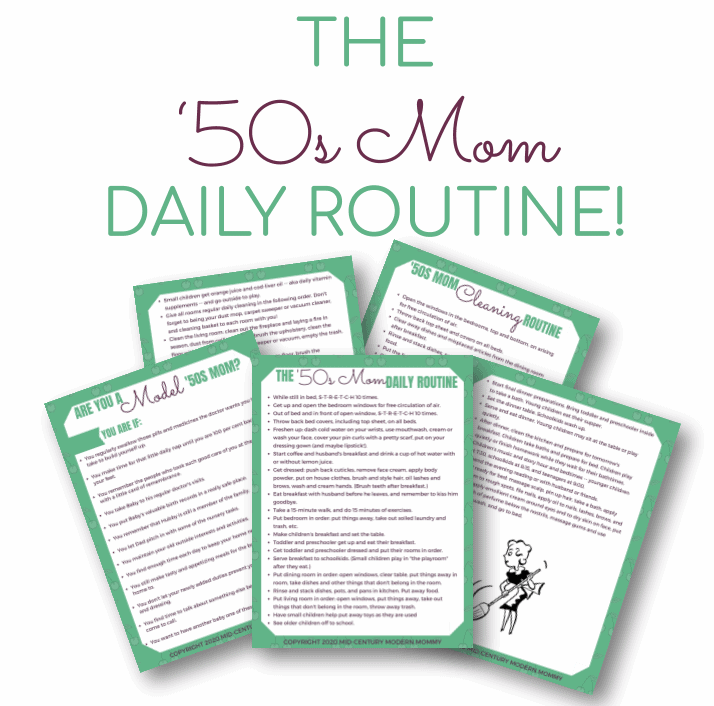 Get Our Mid-Century Mom Daily Routine FREE!