This post contains affiliate links. If you click a link and make a purchase, I may receive, at no additional cost to you, a small commission. Find out more on my Disclosures page, and thank you so much for your support!
The first weekend of my Very Vintage December! Honestly, I'm disappointed that I didn't get more (any) pictures taken. I'm going to have to work on that next week! And getting the recipes I'm using up as well. I mean, how can people follow along, if I don't? Anyway, I'm doing all of the projects for Days 7 & 8 today, since I take Sundays OFF!
Complete Daily Vintage Cleaning Routine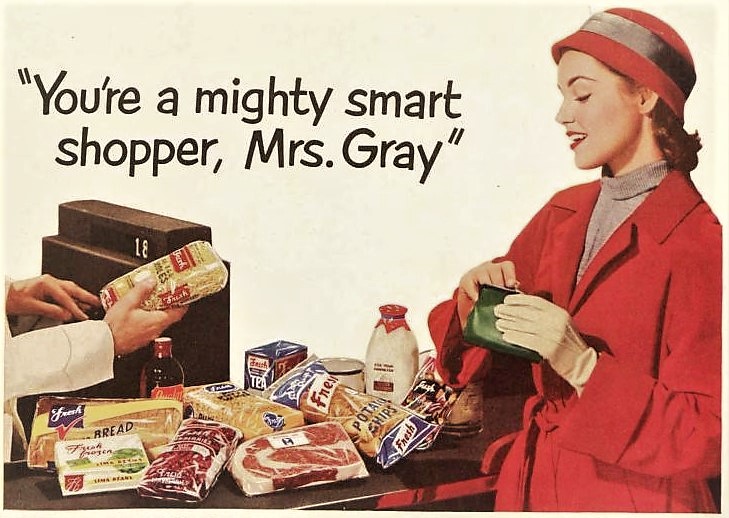 I have set up my routine so that I have no cleaning on Sunday. On Saturday, I do my weekly marketing (it takes about 4 hours, so I don't do it on school days), while my husband and the kids work around and outside the house. Then, in the afternoons, we all hang out together. Usually, I do weekly baking, including cake for Sundays, in the afternoons, but I have made so many treats this week that I skipped it and did all of my Very Vintage December projects for the weekend instead!
Make Mystery Fruitcake
I would like to start by saying . . . THIS is NOT fruitcake. This is not even close to being fruitcake. This . . . thing is a giant cake ball. And honestly, if I had made it out of cake mix and frosting mix, then it would have made everyone sick. I really do not recommend this. If you must make it, make it into cake pops or something. Christmas cake truffles, even. ANYTHING other than serving in slices to unsuspecting victims! I seriously don't know what I am going to do with this monstrosity. Even my teenage son doesn't want to eat it!
Make Snowflake Cookies
These were fun. And everyone ate these instead of mystery fruitcake, so my baking day wasn't a total loss. Since it's the weekend, I'm not taking any of these around to the mailman or milkman today, but I might take them next week. (Yes, I already took the peppermint brownies. So what?)
I used a star-shaped cookie cutter, and it was a lot of fun to sandwich the cookies together. I'm thinking of dipping them in white chocolate and adding sprinkles next time, though.
The Betty Crocker Christmas Countdown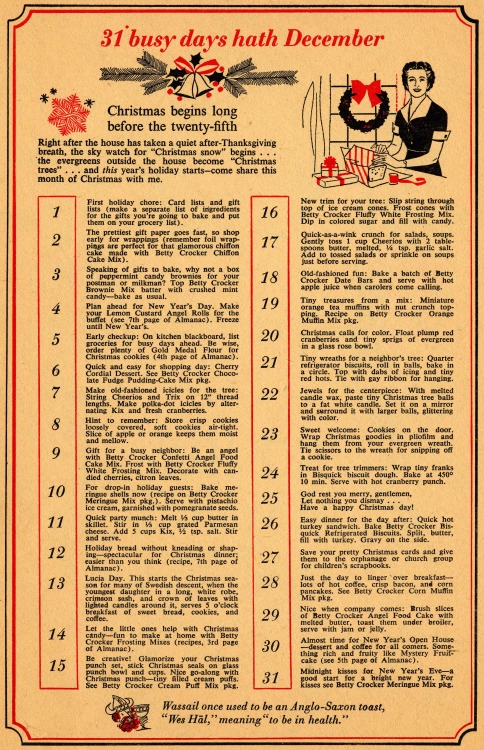 I ended up putting off both of the projects from this list! The first project was stringing "icicles" of Trix and Cheerios, or Kix and cranberries. We always make garlands of popcorn and cranberries when we decorate the tree, and then take them outside to feed the birds after Christmas. So, I am leaving this project for later. (I had the kids make their paper chain garlands, instead.)
The 8th day was a tip for storing cookies. Since all the cookies I have made have been eaten the same day, that hasn't been a problem yet. (Not so that despicable fruitcake . . .)
Make It 1950s!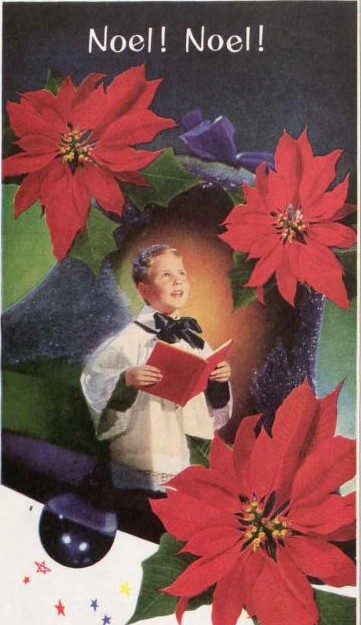 So today, I sat down with my lists. I don't have a fully furnished home, according to all the vintage books, by the way. My furniture and furnishings fall sadly short of what my books recommend. So, I decided to use some of Jen But Never Jenn's 1950s Christmas Checklist (but with a little less sarcasm), and also the list from Have a Very Vintage Christmas (affiliate link). Specifically, my criteria for my decorating is that it:
Is coordinated and detail-oriented — it's all about the little touches: the candy cane guest towels, the Christmas-themed boxes of matches, the holly-motif doormat. Every room is decorated, and the overall look all works together.
Is colorful — from red and green, to heavenly blue, to pink, charcoal gray, and aqua late in the decade.
Is outside as well as inside — curb appeal is part of a 1950s Christmas.
Is mostly handmade (by me) — obviously, this is not on anyone else's list, but at least this year, I will try to make as many of these decorations as possible.
Climaxes with the little woman getting a cleaning apparatus as a gift — I would seriously love this. Really. No diamonds for me, thanks, but a new refrigerator? Oh, yes.
So, today I am choosing a theme and a color scheme. Then, I will make a list of all the crafts I want to do in the next couple of weeks and prioritize them. After that, I will collect my supplies, see what else I need to get started — and prepare to take more pictures! Hah!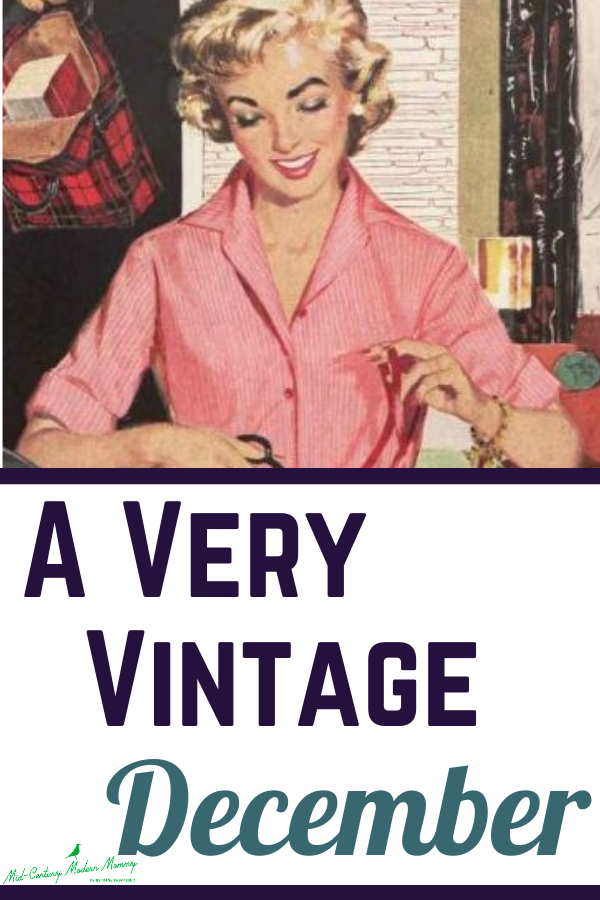 What are your plans for next week? What are you doing to prep for the holidays?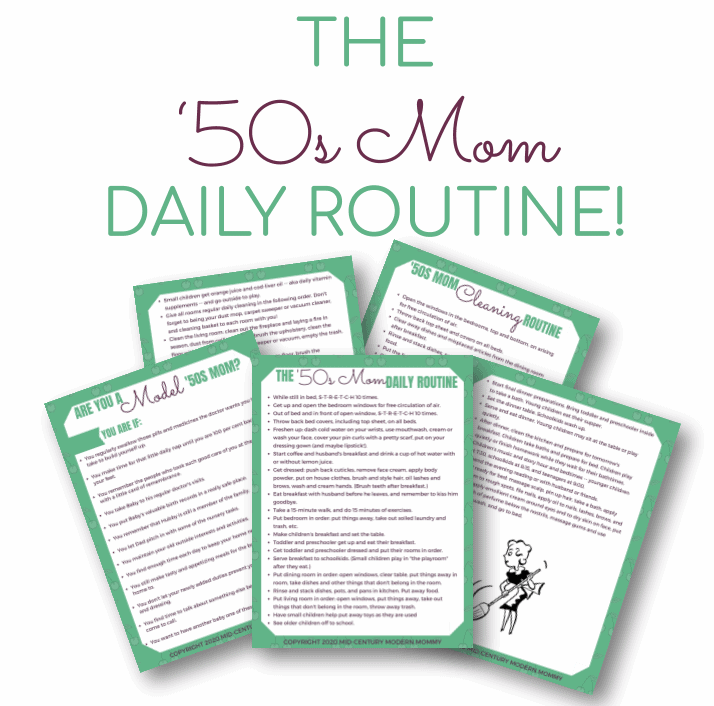 Get Our Mid-Century Mom Daily Routine FREE!