This post contains affiliate links. If you click a link and make a purchase, I may receive, at no additional cost to you, a small commission. Find out more on my Disclosures page, and thank you so much for your support!
1950s vintage menus are so much fun! I thought that it would be exciting to start a 1950s Meal Plan Monday for all my readers who might be wondering about making a proper 1950s dinner part of your daily meal plan. Here are the menus for October 21-27.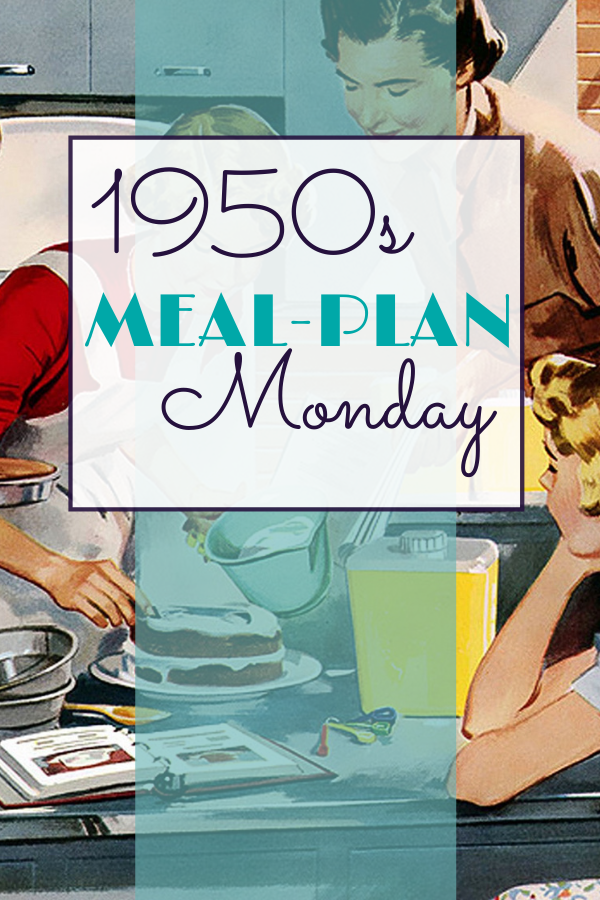 Menus
Monday – Chicken tetrazzini, peas, rolls, apple-nut salad, chocolate pudding
Tuesday – Pizza, Italian salad, cake, ice cream, chocolate milk (preschool birthday)
Wednesday – Hawaiian pork supper, seasoned rice, rolls, creamy lime molded salad, brownies (with left-over ice cream)
Thursday – Beef birds, mashed potatoes, green bean casserole, rolls, strawberry-pineapple ring, baked custard
Friday – Beans, rice, homemade tortillas, red chile sauce, toppings, sopapillas
Saturday – Alabama chicken and puffs, mashed potatoes and cream gravy, glazed carrots, carrot-apple salad, rolls, pie
Sunday – Roast chicken and potatoes, peas and carrots, glazed beets, rolls, confetti salad, layer cake
The Plan
Mondays are for casseroles, Tuesdays are (usually) chicken, Wednesdays are pork, Thursdays are for beef, Fridays are for fish (or meatless), Saturday is Cook's Choice, and then Sunday dinner is a big, midday dinner with extra dishes. The recipes I use for almost everything come from my collection of vintage cookbooks (yes, even pizza is in my vintage cookbooks! California Cookbook, 1950s)
Every dinner includes rolls or other hot bread, a salad (yes, even a molded salad), meat (or at least protein) and 2 veg, with a sauce or gravy. It also includes a starter and a dessert. I serve less meat and more veggies this way, too. Plus, my hungry teenage boys can eat an extra roll or two with more veggies, and feel nourished without junk food.
How to Do It
I start the dessert, salad, and roll dough at breakfast-time. Then, dinner's main dish gets started at lunchtime. Vegetables, salad, rolls, and the main dish get finished while I do the afternoon tidying and finishing dinner. Each of these meals has a work-sheet and a list of ingredients. I also try to serve a starter, but it is something uncomplicated, like chips and salsa on Friday, or tomato juice cocktail on Monday.
A lot of housewives have been taught that time in the kitchen is wasted. It's not! It does take planning, but being able to serve a dinner like this is a luxury that most people in the world (and throughout history) do not and have not had. It's another thing that makes me grateful to be a vintage housewife. My family eats together almost every night, around a nicely set table, filled with good things. That is a gift that I am proud to give them.
If you would like, you can check out the rest of my mid-century dinner menus. And if you make the menus, share a pic on Instagram and tag me! (Are you following me on Instagram? I share a lot of vintage homemaking quick wins over here!)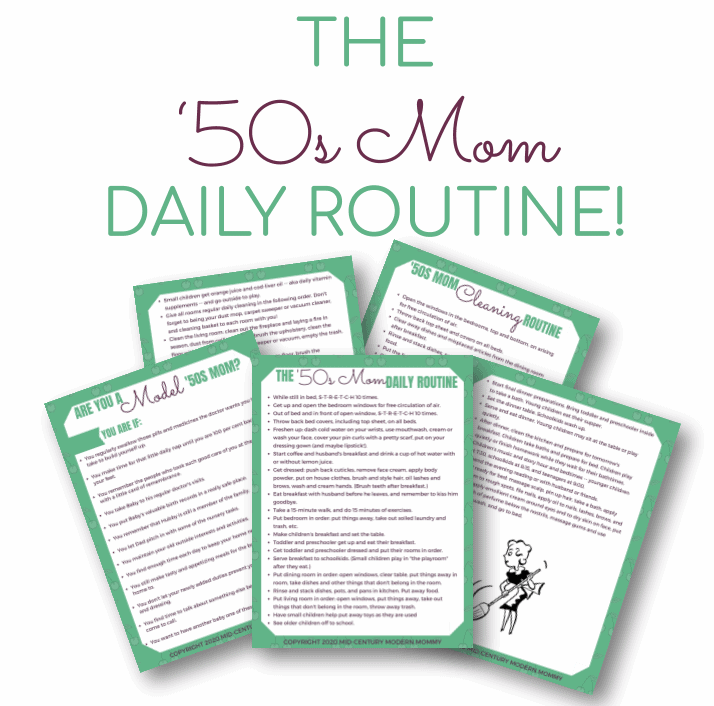 Get Our Mid-Century Mom Daily Routine FREE!