This post contains affiliate links. If you click a link and make a purchase, I may receive, at no additional cost to you, a small commission. Find out more on my Disclosures page, and thank you so much for your support!
One of the defining features of being a mid-century housewife was babies. You married, expecting to have babies. And when they came along, you raised them right. So what kind of clothes and furniture did the proper '50s housewife have for her baby? What was in the vintage baby layette?
Things to Have Ready For Your Vintage Baby
When your baby arrives, he'll need equipment as well as a layette. The most common equipment is a room of his own, a crib which can be turned into a toddler bed, a bassinet for the early weeks (preferably on wheels), a wardrobe or chest of drawers, a comfortable chair with a footstool and a sturdy side table, a changing tale (or the top of a low chest of drawers), a scale, a shaded lamp, a wastebasket, a hamper, and a covered pail, a bath table or tub, and bath supplies. You should also have a small hot-water bottle, a thermometer, and a baby syringe.
The Vintage Baby Layette
The absolute essentials of Baby's wardrobe are:
3 abdominal bands (usually supplied at the hospital) to hold the navel dressing in place
4 short-sleeve or sleeveless shirts, 6-month size
4 long-sleeve shirts, 6-month size
6 long cotton nightgowns
6 cotton sacques or kimonos
2 wool sacques or sweaters
6 pinning blankets or outing flannel squares, 36″ x 36″
4 dozen cloth diapers, 21″ x 40″ or 20″ square
1 bunting bag and 1 warm hood
Safety pins
Slip or gertrude and long dress for company occasions
Soft absorbent waterproof pads
And those are the basics of the vintage baby layette! As you can see, it is very minimalist, and it mostly relies on the mother doing a lot of laundry. In fact, she expected to do a load of baby's clothes, and another load of diapers every day, as long as he was little.
What does Your Baby Need for His Schedule?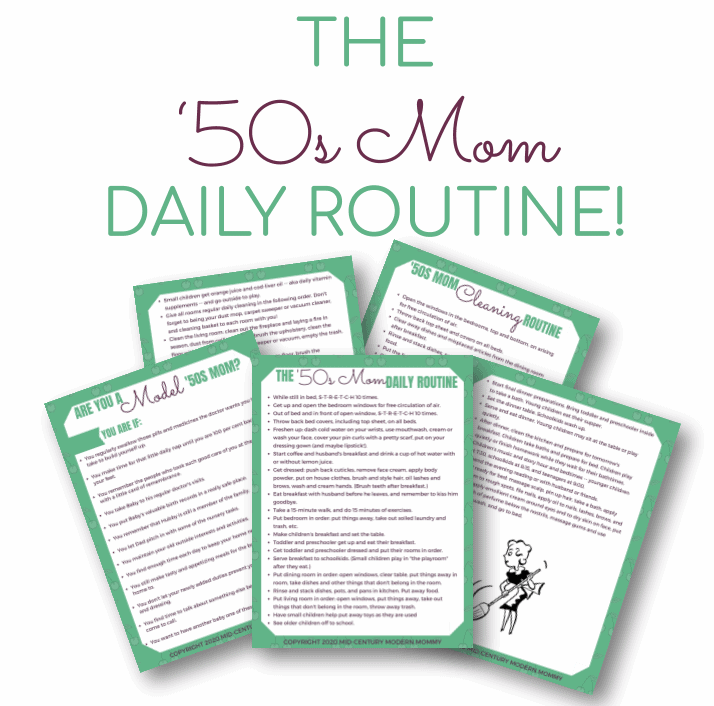 Get Our Mid-Century Mom Daily Routine FREE!