This post contains affiliate links. If you click a link and make a purchase, I may receive, at no additional cost to you, a small commission. Find out more on my Disclosures page, and thank you so much for your support!
You know, I always make a lot of things this time of year. I bake cookies, make candy — I make treats all month. But this season, doing three holiday projects a day plus my vintage housekeeping, is more than I have ever tried to do. On the other hand, I love decorating. I'm having fun with all the new recipes and the crafts. So! On to the list for a Very Vintage December, Day 5:
Complete Daily Vintage Cleaning Routine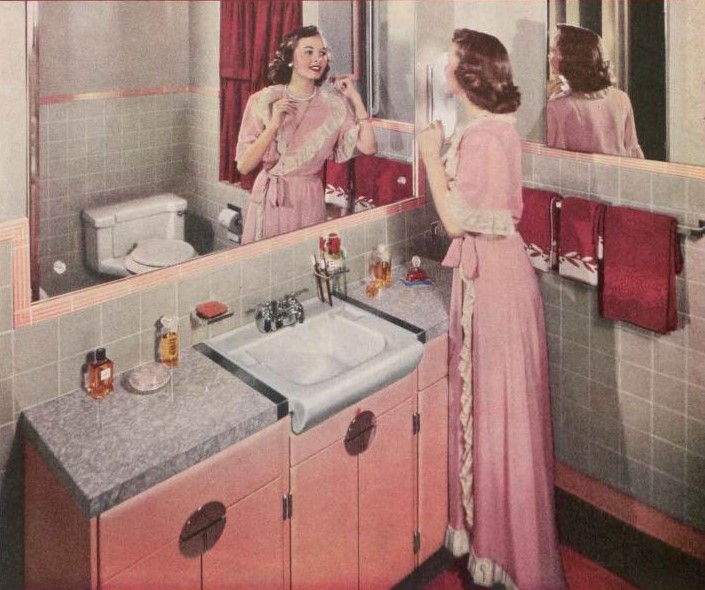 Today, Thursday, is my day to do the weekly cleaning of the bedrooms and bathrooms. (Don't you love the pink bathroom in the picture?) At the beginning of the heating season, I switch from summer percale sheets on all the beds to winter flannel sheets on all the beds. I also dig out all the winter things, make wardrobe swaps, check over my linen closet. Mostly, that's because I know that I will be too busy to do it now! But, the first week of December, I do take Bed & Bath day to check over all the holiday outfits and make everyone try them on! I washed, ironed, and mended on Monday and Tuesday, so today everyone tries everything on, I check it over, and make notes of anything that needs to be found or fixed. Then, the whole family is ready for holiday pictures in a couple of weeks.
However, as far as bedrooms and bathrooms, for winter, I make sure everyone has flannel sheets, wool and down blankets, a quilt, and a robe and slippers for the winter. Our bedrooms are always cold, since we live in a farmhouse without central heat. The bathrooms are cold, too. So, bathrobes, slippers, and cozy beds are necessities. So are cozy sweaters and warm layers. My boys and my husband all wear flannel union suits and wool socks, and my girls and I wear wool tights and flannel slips over our unmentionables.
Make Duchess Potatoes
I love duchess potatoes. I don't use them as often as I should — maybe I will fix that this month. New goal: duchess potatoes at least once a week! I do however, frequently make them with leftover potatoes as lunch. I mix leftover mashed potatoes with cheese, eggs, and milk, make mounds, depress the tops and put an egg in each mound, and bake! They go great with bread-and-butter and cream of spinach soup for a simple lunch. I do a lot of cooking like that — cooking in the "English" style: no-waste soup, potato cakes, hash. I love those kinds of dishes.
List Groceries for the Busy Days Ahead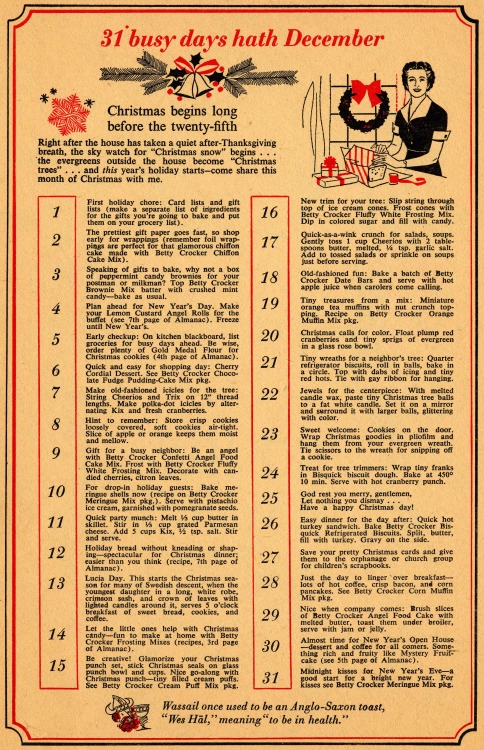 So, my grocery lists are part of my meal plan, and I usually do them on Fridays, before I go shopping. I do two shopping days each week. One is my errand day, when I pick up my weekly produce share. But my big weekly marketing has its own day. Every week, before I go grocery shopping, I give the kitchen its weekly cleaning. I clean out the pantry shelves and refrigerator as well.
When I clean up my food supplies, I have inventory lists that have my staple supplies listed. The only things that change from week to week are seasonal produce, meats (bought on sale), and special items for birthdays or holidays. Using my inventory lists, I make a note of everything I need to replenish. I keep a good backstock (about 30 days worth) of non-perishables, because I have the space for it — 30 days worth of non-perishable staples for 9 people is no joke! So, when I see something that I am out of, I pull from my stock, note it on my list, and buy more when I do my shopping.
My Very Vintage Meal Planning
I don't plan my meals before I go shopping. Since I shop sales for perishables, and pick up a seasonal produce share once a week, I don't plan meals until after I do my weekly marketing. Then, I sit down, knowing what meats and vegetables I have available, and make my menu plan for the week. I use a vintage meal planning system that makes it easy to plan the best meals based on what I have gotten on sale and my staples. I just have lists (more lists!) of main dishes, side dishes, extras, and desserts. Each week, when I plan my menus, I pick from those, based on the season and what I have for the week. Then, I publish the menus on Mid-Century Menu Monday!
Make It 1950s!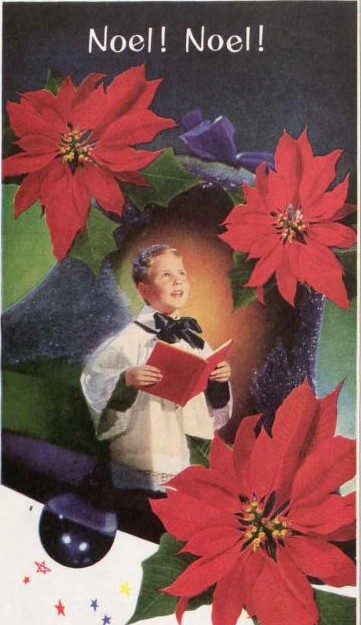 Today, I took a break from my vintage Christmas books to make a vintage-style project from Susan Waggoner's Have Yourself a Very Vintage Christmas (affiliate link), published in 2011. If you haven't seen this book, IT IS FABULOUS! Ideas for Christmas in every decade from the 1920s to the 1960s. And Candy.
According to Waggoner, some of the things that really made it a 1950s Christmas were Christmas-themed EVERYTHING, from matches to towels, poinsettias, and outdoor light displays. So, today I did two things. I made a display of evergreen branches, ribbons, and Christmas cards (very '50s!), and I put several poinsettia plants in the dining room and the living room. Super simple, but I'm happy! I needed a simple project today!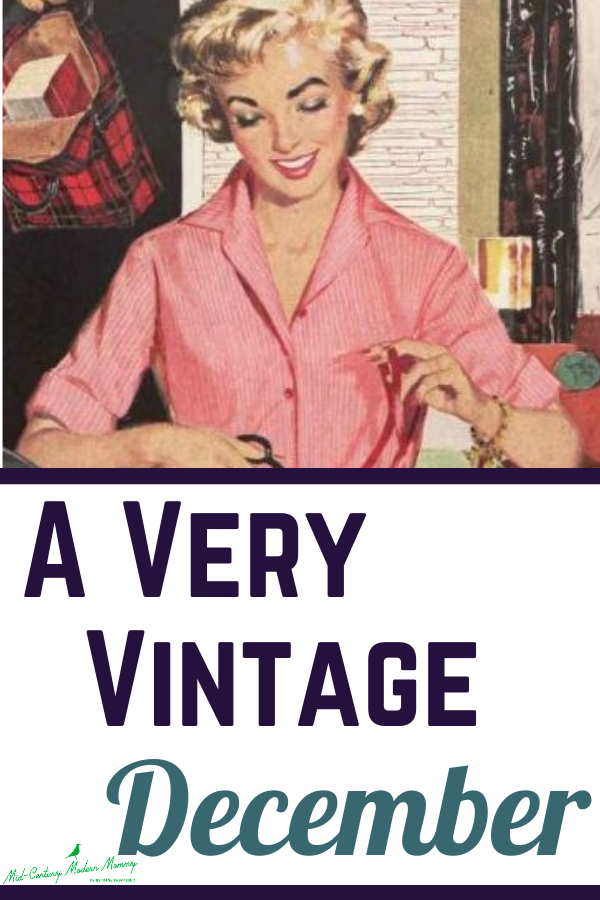 Do you have holiday weekend plans? Maybe a 1950s Christmas Cocktail Party? A Very Vintage December Crafting Party?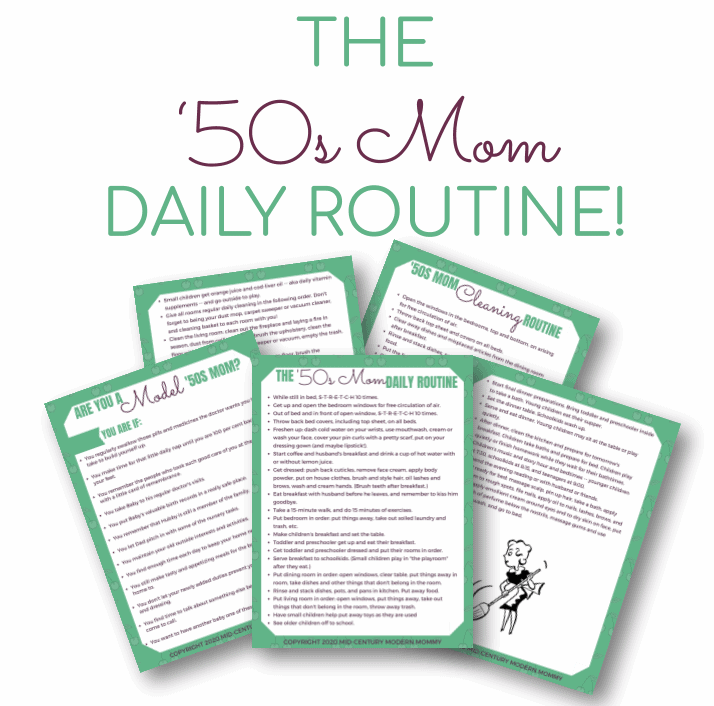 Get Our Mid-Century Mom Daily Routine FREE!