Welp.
Can I just say that a vintage daily cleaning routine is really overwhelming to look at? I've gotten into the habit of doing the things on the list, and I can whiz right through it, but typing up the whole list of things that I do took longer than *actually* cleaning.
Anyway, my husband wanted a picnic-and-family day, so we had our first outing of the season. It's really easy to go on a picnic and never see anybody around here. But all of the fishing is closed, which upsets my husband and kids.
The picnic was simple. I am very much of the idea that bread-and-butter, fruits, and hard-boiled eggs is all anyone needs for a picnic. And I added rhubarb lemonade, because we have a lot of rhubarb right now.
Has anyone ever canned rhubarb? I'm thinking of practicing my canning technique on our excess rhubarb. I'd like to be better at canning than I am.
Tomorrow is Sunday, and I will be writing about making a meal plan with menus. Once you have the Get Up and Get Dressed, Vintage Daily Cleaning, and Meal Plan Baby Steps, you are pretty much doing the whole vintage housewife thing!
What's your cleaning routine?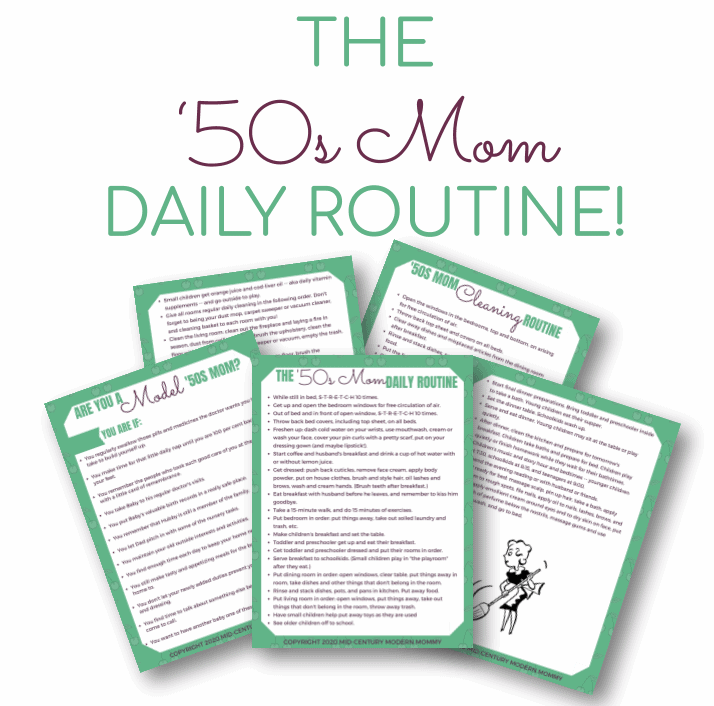 Get Our Mid-Century Mom Daily Routine FREE!