This post contains affiliate links. If you click a link and make a purchase, I may receive, at no additional cost to you, a small commission. Find out more on my Disclosures page, and thank you so much for your support!
For this week, I just repurposed one of my older menus, since I was busy and not feeling well. I do that a lot when I am worn out. I just change around the sides to make sure they are seasonal. I also change up the appetizers and desserts, just for fun! Here is my 1950s Meal Plan for March 9th to 15th.
Mid-Century Menu Monday Dinners
Monday
Wonderful Hash
Braised Celery and Tomatoes
Rolls
Sliced Pickles
Peach Halves with Cheese
Tuesday
Susan's Chicken Pie
Fluffy Potatoes
Green Beans with Bacon
Biscuits
Apple-Nut Salad
Gingerbread
Wednesday
Sausage Skillet Bake
Scalloped Potatoes
Baked Winter Squash
Custard Cornbread
Spinach and Onion Salad
Tapioca Cream and Chocolate Cookies
Thursday
Tonight is a 6-year-old birthday dinner. So the cupcakes will be fairy colors.
Marinated Olives and Mushrooms
Neapolitan Pizza
Caesar Salad
Root Beer Floats and Cupcakes
Friday
Fried Catfish with Cream Gravy
Mashed Potatoes
Buttered Peas
Hot Biscuits
Coleslaw
Baked Apples
Saturday
New England Boiled Dinner
Rolls
Cranberry-Pineapple Relish
Pumpkin Pie
Sunday
Anchovy Dunk
Roast Pork with Applesauce
Mashed Potatoes
Baked Squash
Creamed Spinach
Cloverleaf Rolls
Pickled Beets
Boston Cream Pie
If you would like, you can check out the rest of my mid-century dinner menus. And if you make the menus, share a pic on Instagram and tag me! (Are you following me on Instagram? I share a lot of vintage homemaking quick wins over here!)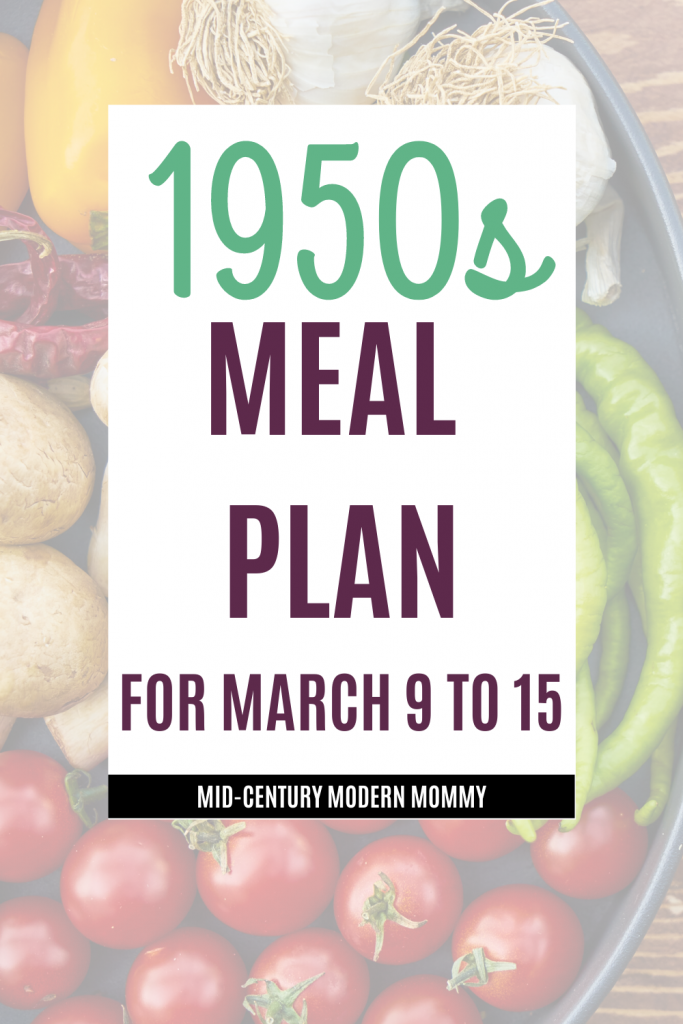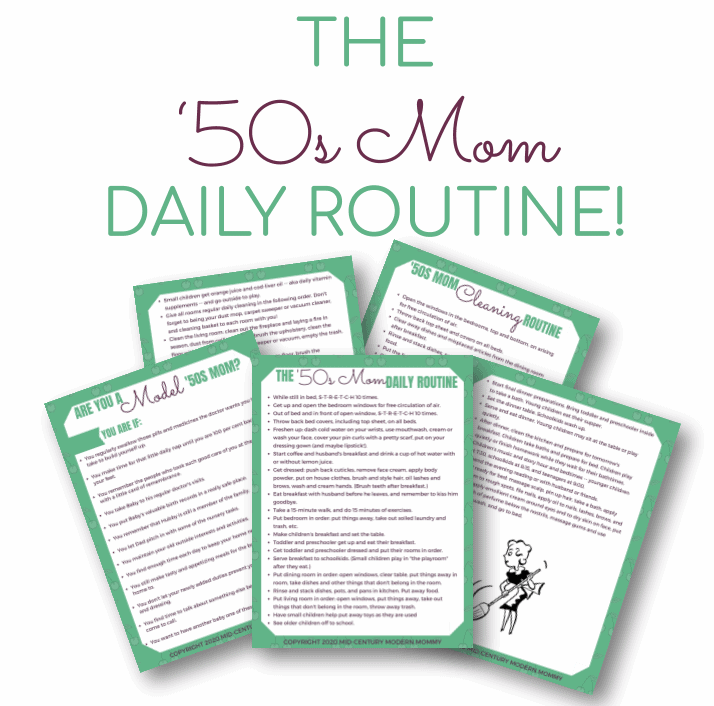 Get Our Mid-Century Mom Daily Routine FREE!