Create A Nostalgic 1950s Thanksgiving for Your Family
Another month, another vintage holiday! I LOVE doing a 1950s Thanksgiving! It is almost more nostalgic for me than Christmas since it was my mom's favorite holiday. And all that nostalgia fits perfectly because I LOVE using my 1950s cookbooks and magazines to make the whole celebration vintage. If you want to see how I put together a complete 1950s Thanksgiving, I wrote an ebook about it. In the meantime, here are some of my favorite retro 1950s-style Thanksgiving decorations that I use to decorate for my most vintage holiday dinner!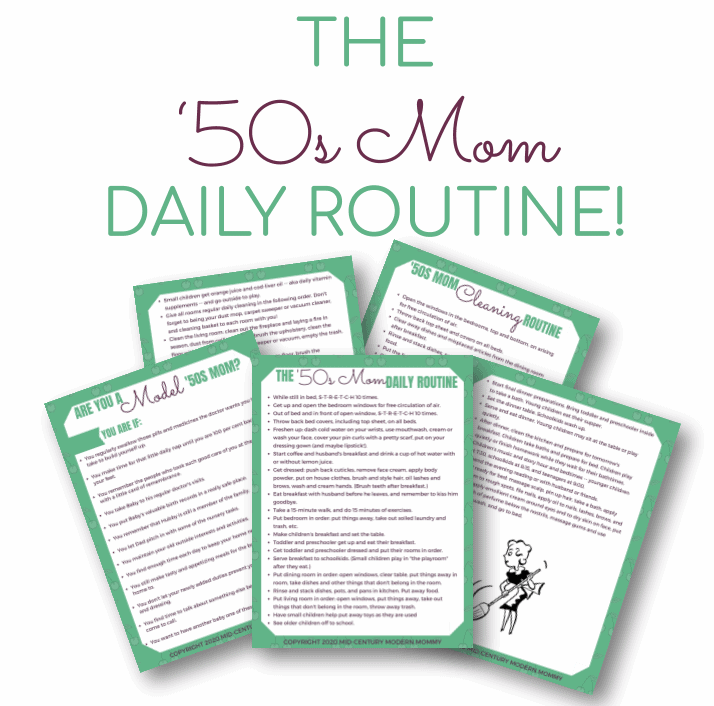 Get Our Mid-Century Mom Daily Routine FREE!
This post contains affiliate links. If you click a link and make a purchase, I may receive, at no additional cost to you, a small commission. Find out more on my Disclosures page, and thank you so much for your support!
1. Beistle Paper Decorations
Oh, yes, once again ANYTHING BY BEISTLE! Seriously, this company makes the best retro ephemera — probably because they are still using the same patterns and models that they used for the originals back in the day. They are the real deal, folks. From honeycomb turkeys to glossy cornucopia, they've got it all.
2. Candle and Candlesticks
For Thanksgiving, I love to use a lot of old-fashioned dinner tapers and old-fashioned candlesticks. Vintage glass and pottery go well with chrysanthemum flower arrangements. I LOVE Mosser glass for all kinds of things, especially tablescapes. Oh, and don't forget the cornucopia!
3. Harvest-Coloored Table Linens
The thing about Thanksgiving is that SO MUCH of the decor revolves around the table and eating! In addition to the goregeous candles and flower arrangements, I focus a lot of my decorating energy on the table. And that means that a lot of the decorations are going to resemble "1950s Tablescape for Fall."
I love the idea of cozy, vintage decorations and homey, informal table decor. So my choice for table linens is a harvest gold tablecloth and cranberry-colored napkins.
4. Vintage Tin Signs
I do love these things. I like to have seasonal ones so that I can switch out my wall art for holidays. And there are some really cute ones for thanksgiving!
5. Bethany Lowe Decorations
If you remember these from Halloween, then you know that I LOVE collecting Bethany Lowe decorations. I especially like the Thanksgiving dummy boards.
6. Vintage Turkeys and Pilgrims
I adore those little figurines of colorful turkeys in pilgrim hats. What can I say? I am a devotee of kitsch!
7. Vintage Cookbooks
When a holiday is all about food and family, then you also need a few things for the kids! I like to track down some vintage arts and crafts activities, a few vintage movies, and a game or 2. Here's what I will have for the kids at Thanksgiving this year:
Enjoy Your 1950s Thanksgiving Feast!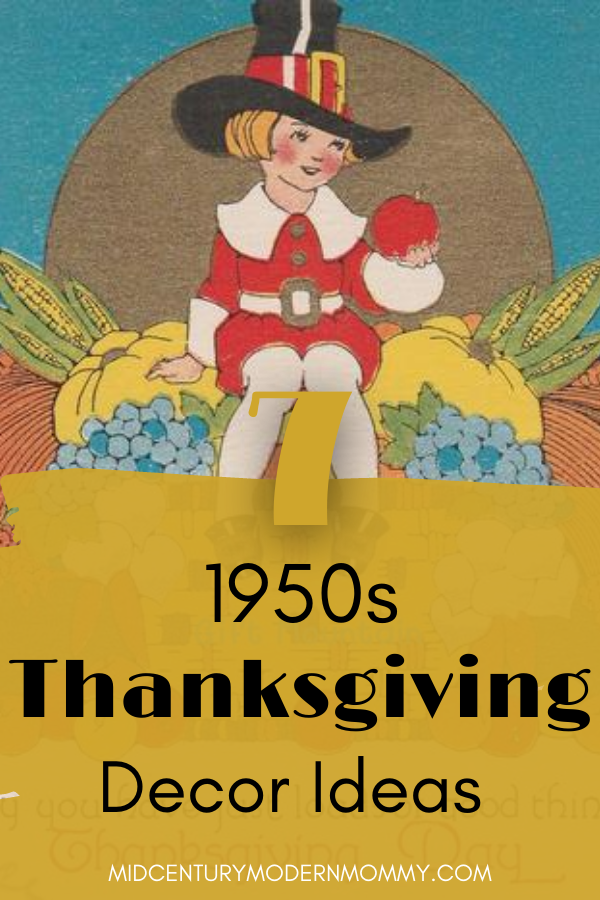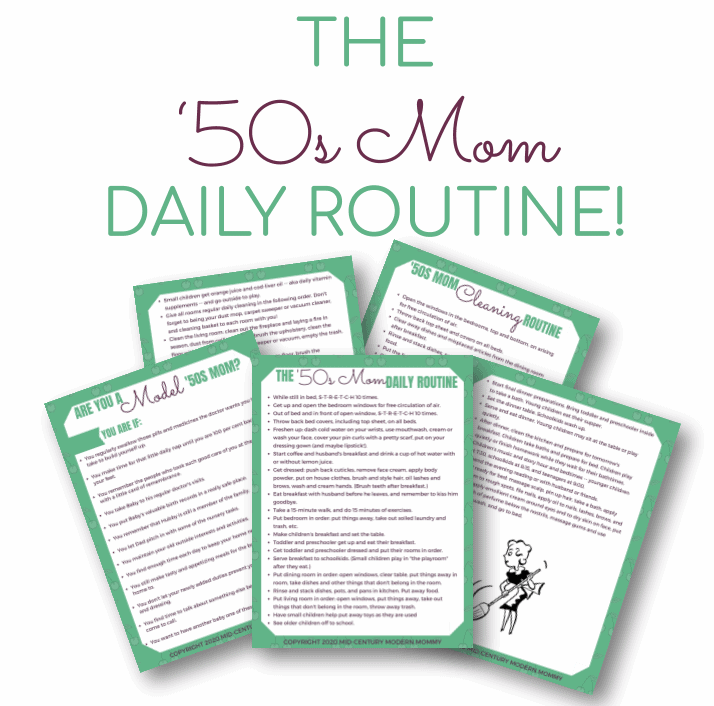 Get Our Mid-Century Mom Daily Routine FREE!