This post contains affiliate links. If you click a link and make a purchase, I may receive, at no additional cost to you, a small commission. Find out more on my Disclosures page, and thank you so much for your support!
Another Monday, and it's time for another installment of 1950s Meal Plan Monday! Menu planning help for the mid-century mom in the last week of October. Of course, that means a Halloween supper. And if you are Catholic, it also means All Saint's Day and All Soul's Day. But, all undaunted, the modern 1950s housewife plans her week of dinners! Here is my meal plan for October 28-November 3.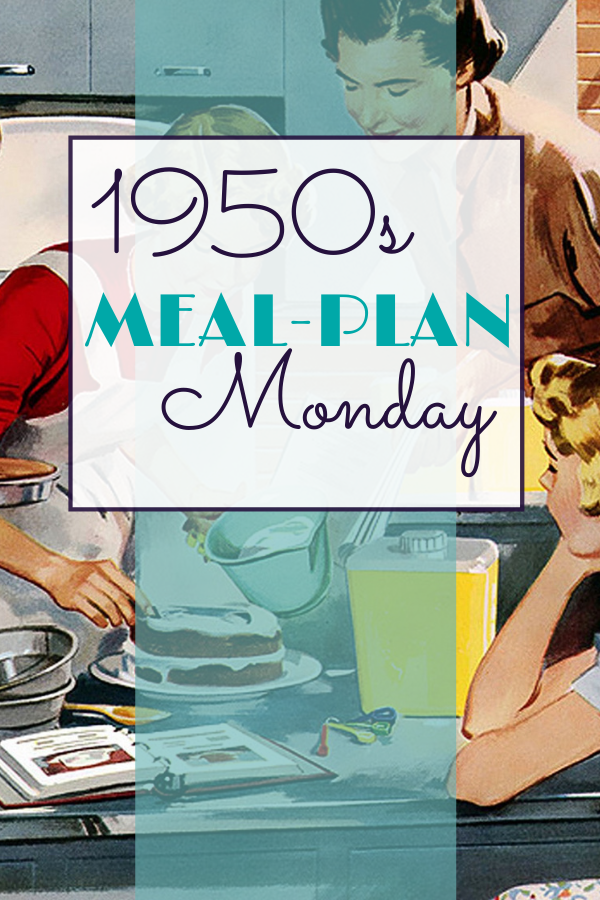 Dinner Menus
Monday
Tuesday
Wednesday
Thursday (Halloween)
Friday
Saturday
Sunday
The Choices
Obviously, Halloween is Thursday. I will try to post all of the decorations and recipes that I am doing with the kids in a Halloween party post. For the most part, we are not buying any candy, and just staying home (there is a possibility of snow that night!). Halloween is my husband's favorite holiday, and our family holidays always revolve around food. But they indulge my vintage tendencies, and go along with my making the supper, treats, costumes, and decorations from scratch. Also, I am making our regional chili, which is a marvelous green chile stew. Because chili is regional — Splendid Table said so! (And I am absolutely making that Jell-o recipe!)
Actually, it is a fairly simple plan. I linked several recipes that are similar to my vintage cookbooks' recipes for these dishes. I really like to make a layer cake on Saturday for the Sunday dinner, and I prefer simpler desserts during the week. We try to eat liver at least once a week, and another variety meat once a week as well, but sometimes they are in our lunches rather than our dinners. Liver and onions is a favorite dinner here, though!
If you would like, you can check out the rest of my mid-century dinner menus. And if you make the menus, share a pic on Instagram and tag me! (Are you following me on Instagram? I share a lot of vintage homemaking quick wins over here!)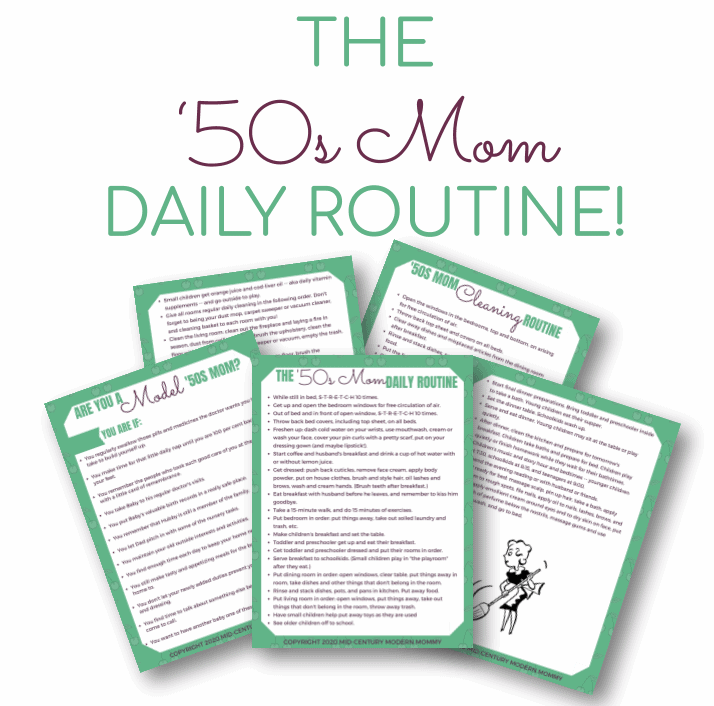 Get Our Mid-Century Mom Daily Routine FREE!