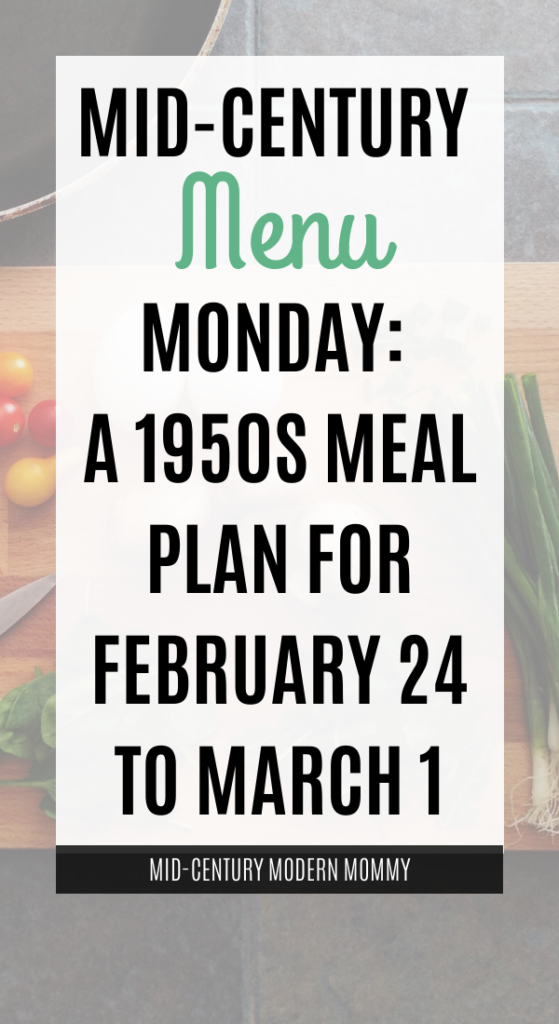 This post contains affiliate links. If you click a link and make a purchase, I may receive, at no additional cost to you, a small commission. Find out more on my Disclosures page, and thank you so much for your support!
It's Meal Plan Monday again, and here is a new 1950s Meal Plan for you! This will be the last of the weekly menus from Family Circle. I have a new cookbook treat for next month! Anyway, here is the Mid-century Menu Monday for February 24 to March 1.
Mid-Century Menu Monday Dinners
Monday
Layers of peppery meat sauce, noodles, and cheese stack up to this bargain dish with an Italian accent. Recipe makes lots, so it's perfect for entertaining–and sauce can be made ahead. For bread, mix chopped parsley with butter or margarine, then spread on hard rolls. Bake cake from a mix, frost, and drift with flaked coconut.
Marinated Olives and Mushrooms
Party Lasagna
Pickled Red Peppers
Crusty Rolls with Parsley Butter
Mixed Green Salad with Italian Dressing
Orange-coconut Layer Cake
I've been saving this menu for a day when I needed a pick-me-up, and the last Monday in February is it! I love lasagna. I especially love it with salad and crusty rolls (or breadsticks) on the side. And I like making layer cakes! I am really looking forward to this meal!
Tuesday
Quick-to-cook white meat of chicken, pork-luncheon-meat sticks, and noodles in a creamy sauce make this top-of-the-range casserole. While chicken simmers, there's time to fix salad and appetizer and cook frozen beans. For dessert, packaged dessert shells, frozen raspberries, and whipped cream make the prettiest shortcakes–fast.
Boullion
Chicken Royale
Garden Bean Bowl
Thin Pretzel Sticks
Lettuce Wedges with Blue-cheese Dressing
Raspberry Cream Shortcakes
This is just the most mid-century thing I can think of. Spam in the casserole to make it fancy? And pretzel sticks as a bread? At least it'll be fun! (I hope!)
Wednesday
Brown a cut-up slice of ham, layer with canned sweet potatoes and pineapple in a dish, and it's ready for the oven. Marshmallows go on at the last minute to melt and toast. Stir up dessert to bake while you are eating the main course. Heat canned pea soup with evaporated milk for a creamy opener, fix salad–dinner's on.
Cream of Pea Soup with Cereal Croutons
Southern Ham Bake
Hawaiian Rolls
Chopped Lettuce Salad with Coleslaw Dressing
Cherry-date Cobbler
This is another strange one–although I've made something similar to this before, without the marshmallows. And I added the Hawaiian rolls because my family wants their starches! But it looks tasty–except maybe the soup!
Thursday
Spread veal cutlet generously with bottled blue-cheese salad dressing, then broil–it will come out richly golden and as juicy as steak. Onions cook with it; other platter-mates go in later. Season green beans for salad early, for they should stand a while to blend flavors. With quick-cooking rice, "potato" of the meal cooks in 10 minutes.
Tomato Juice Cocktail
Broiled Veal-vegetable Platter
Buttered Rice
Toasted French Bread
Marinated Green Beans and Cauliflower
Butter-pecan Ice Cream and Sugar Cookies
Honestly, this whole menu looks delicious. I can't wait to try the bottled-dressing-under-the-broiler trick–if it works here, I can use it with pork as well. And I love butter-pecan ice cream. The vegetables that are accompanying the veal are onions, tomatoes, and mushrooms. Delicious!
Friday
Flavor-rich salmon can be the starter for many main-dish favorites, and this time it's made into a fluffy loaf to serve with creamy sauce. A ring of dainty mandarin-orange segments crowns its coleslaw salad partner. Bake dessert–similar to crumb cake–along with salmon, or time it to come from the oven at the last minute.
Clam Dip with Crackers
Salmon Loaf with Savory Egg Sauce
Mashed Potatoes
Stewed Tomatoes
Pan Rolls
Fruit Ring Cabbage Slaw
Sugar-crunch Squares
I added the appetizer to this meal. I really am trying for 3-course meals at dinner. I've never had meatloaf made from fish before. I'm not sure if anyone will like it, but they do eat fish cakes, so we'll see whether they eat it.
Saturday
Ground beef moves right up to the party front here. Thick patties "broil" juicy-tender atop the range, then team with grilled tomatoes and perky mushroom kebabs for the prettiest company main dish. Go-withs all have fancy touches–even dessert of crispy-thin biscuits layered with berries and cream in deep goblets.
Senegalese Soup
Burger-tomato Towers
Cheese Potatoes
Carrot Rings with Peas
Molded Relish Salad
Parfait Strawberry Shortcakes
It's Saturday Night, so I picked another party menu. We'll call it Leap Day Dinner. I enjoyed these menus, and I will probably come back to this cookbook later this year.
Sunday
Chilled Mineral Water, Mushroom Nibblers, and Garlic Stuffed Olives
Roast Beef Tenderloin with Duchess Potatoes and Baked Stuffed Onions
Green Beans De Luxe
Herb Carrots
Old-Fashioned Pan Rolls
Helen's Tossed Green Salad
Old-fashioned Chocolate Layer Cake
So, for March, I am making my menus from the storied green binder, Good Housekeeping's Cook Books. This thing is the ultimate in post-war American cookery. That could be a good thing or a bad thing, depending on how you look at it. I enjoyed my time in Family Circle's What's for Dinner cookbook, and I will probably return to it later. For this month, though I will delve into the garish-photo-adorned Necronomicon of food, supplemented by their "normal" Good Housekeeping Cook Book from 1952 for more ordinary recipes.
If you would like, you can check out the rest of my mid-century dinner menus. And if you make the menus, share a pic on Instagram and tag me! (Are you following me on Instagram? I share a lot of vintage homemaking quick wins over here!)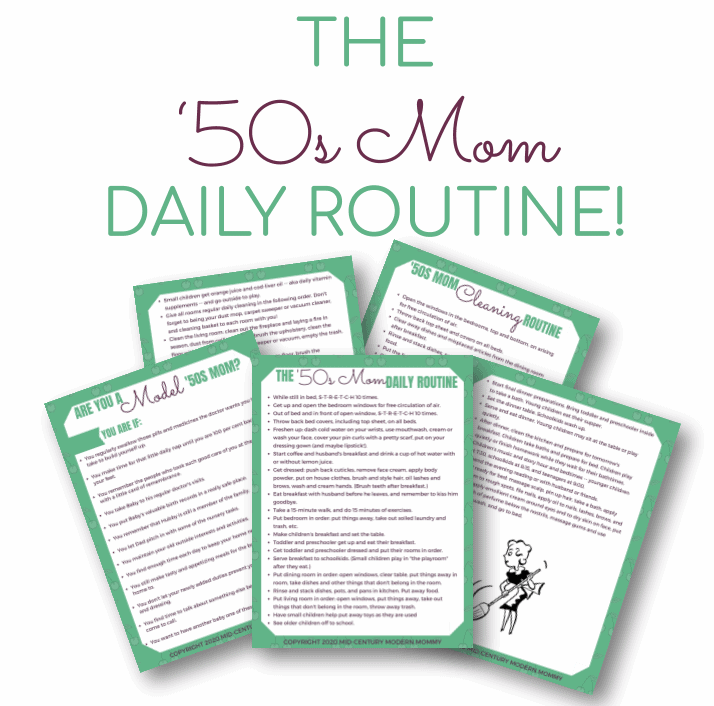 Get Our Mid-Century Mom Daily Routine FREE!