Day 3 from the Betty Crocker 1959 Holiday Almanac is all about mailing gifts early! Honestly, this is probably too late for overseas gifts. The gracious living recommendation is to send out gifts in November. But this is an excellent time to mail your gifts of food. So today — we are talking about what to send to friends and family for the holidays!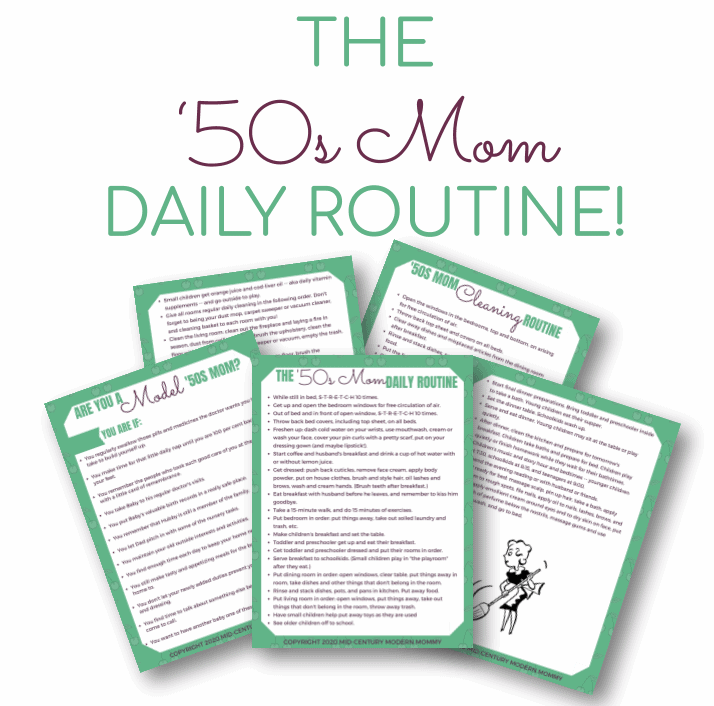 Get Our Mid-Century Mom Daily Routine FREE!
Mail Your Holiday Gifts Early in December!
This post contains affiliate links. If you click a link and make a purchase, I may receive, at no additional cost to you, a small commission. Find out more on my Disclosures page, and thank you so much for your support!
Mail Your Out-of-Town Holiday Gifts Early!

Today's very vintage holiday project is to get your gifts mailed out. Now, this is mostly for food gifts — at least that's what Betty Crocker recommends. But it is a very good time to mail out all your out-of-town gifts, well before the biggest rush.
What Should You Give as Vintage Gifts?
So obviously, food is a big one for friends and family out of town. My vintage magazines are FULL of ideas for using of coffee tins, decorating them, and filling them with goodies, then mailing them away to military serving overseas, and family that's too far to visit. But what else can you send?
Actually, the gift basket has a long history, from fruit baskets and hampers in the 1800s to today's curated gift boxes. So choosing a curated gift box or vintage-inspired treats is also very vintage for the holidays.
Make Your Own Gift Baskets
I really like to try making my OWN curated vintage gift baskets. So I usually try to have a theme. Mostly, they revolve around baked goods. Some years, I will do all homemade candy. I will also look through my vintage books and make little collections — like several wooden spoons, a mixing bowl, and an apron.
Another great one is a beauty basket with beauty tools. I LOVE Vintage Hairstyling's kits, wrapped in a chiffon scarf to cover the curlers. And a little Besame never hurts, either.
If you want some more ideas, then, for example, this year I made:
A mending basket, with thread, snips, needles, pincushion, several neatly rolled trims, a jar of buttons, and some small squares of fabric for patching.
A baby basket with a rattle, a ball, a set of alphabet blocks, and three board books.
A nostalgia basket, with some 1990s candy, a few 1990s board games, and a retro games emulator that looks like a GameBoy.
How to Wrap Your Gifts For Mailing
So this is where the fun vintage bit really comes in! I found these pages in the Better Homes and Gardens magazine from December 1950: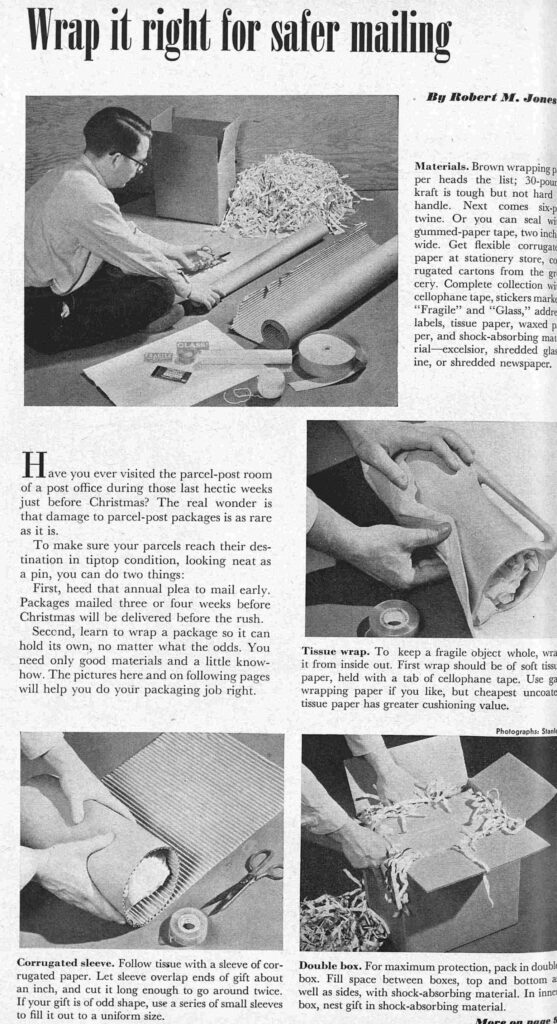 Aren't they fabulous?!? Incidentally, if you aren't using the INCREDIBLE Better Homes and Gardens Archive, why not? They are a great resource if you can't collect all of the magazines in hard copy. I wish all the vintage magazines were doing it!
Don't forget to mail your packages once you've made them! I'm off to the post office!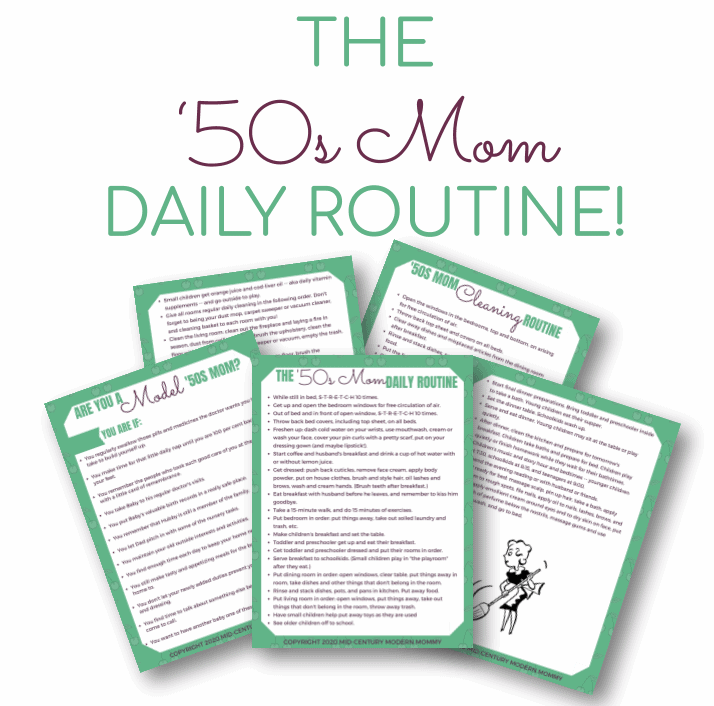 Get Our Mid-Century Mom Daily Routine FREE!