Meal planning is the hardest part of eating at home all the time.
Being creative, coming up with new ideas, and then getting those meals onto the table on time is tough.
Here are 7 vintage dinners for mid-November to inspire your adventures in square meals.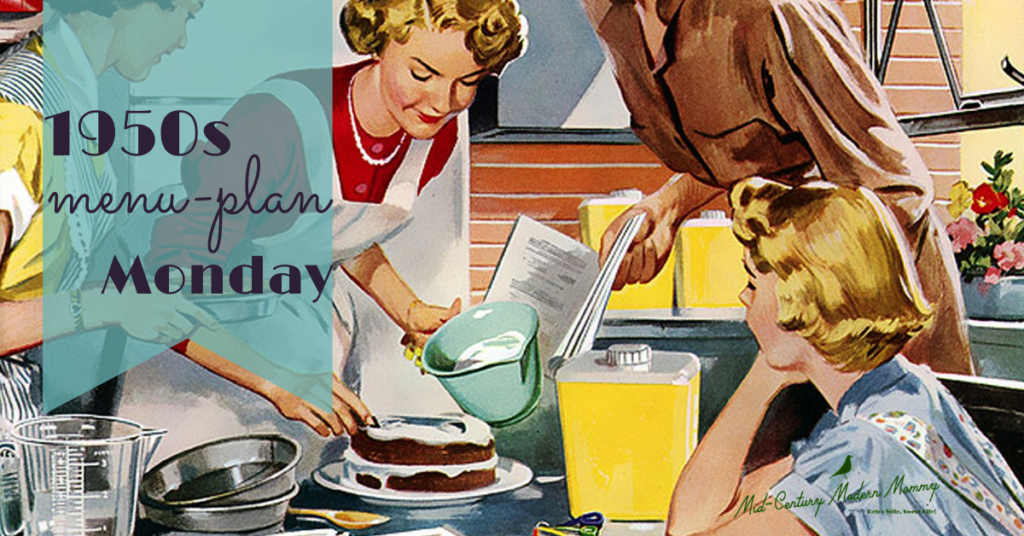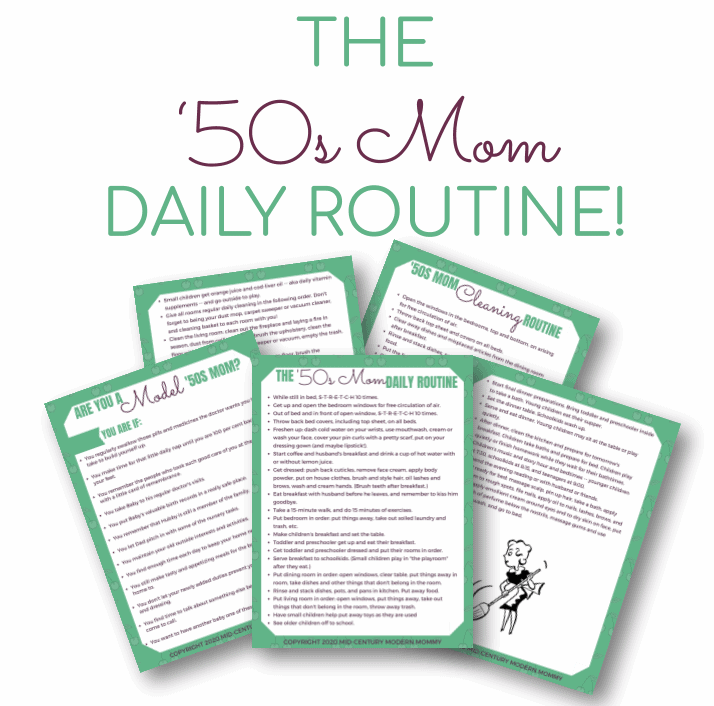 Get Our Mid-Century Mom Daily Routine FREE!
A Week of Menus for Mid-November
This post contains affiliate links. If you click a link and make a purchase, I may receive, at no additional cost to you, a small commission. Find out more on my Disclosures page, and thank you so much for your support!
There are many vintage cookbooks that contain complete menu plans for a full year, based on providing nutrition and variety to the vintage housewife's meals. The best one is Meta Given's The Modern Family Cookbook, but only the earliest editions. Some of my favorites are:
These are hearty warming meals from one of my vintage meal plans. They all center around cold-weather dishes and seasonal foods. Here are some other menu plans for November:
Seasonal Foods For Mid-November
The idea of sticking to the foods that were in season was very important to the thrifty vintage housewife! It saved money and helped to keep people healthy. Here are some of the things that are in season right now:
Fruits
Apples
Cranberries
Grapes
Oranges, pears, persimmons, quinces, almonds, filberts, butternuts, chestnuts, walnuts.
Vegetables
Beans
Beets
Broccoli
Cabbage
Carrots
Cauliflower
Celery
Cucumbers (hothouse)
Kale
Lettuce
Onions and garlic
Potatoes
Sweet potatoes
Pumpkins
Winter squash
Spinach
Turnips, rutabagas, and swedes
Various herbs.
Canned green beans
Canned tomatoes
Canned corn
Meat and Fish
Beef
Mutton
Pork
Veal
Chickens
Geese
Fowls
Turkeys
Blackcock (no idea what this one is — a kind of game bird)
Goose
Grouse
Opossum (no, thank you)
Partridges
Pheasants
Quails
Rabbits
Snipe
Venison
Woodcock.
Bass
Carp
Chub
Cod
Dace
Eels
Flounder
Haddock
Halibut
Perch
Pickerel
Pike
Plaice
Smelts
Sprats
Trout
Turbot
Whitefish
Whiting
Crabs
Crayfish
Lobster
Oysters
Prawns
Shrimp
Monday's Dinner
Baked hubbard squash
Whole wheat bread and butter
Shredded lettuce with dressing
Coffee and milk
Tuesday's Dinner
Roast Boston pork butt and gravy
Mashed potatoes
Savory creamed spinach
Cornbread and butter
Applesauce cake with whipped cream
Coffee and milk
Wednesday's Dinner
Whole wheat bread and butter
Coffee and milk
Thursday's Dinner
Chop suey (basic vintage version above)
Boiled rice
Buttered carrots
Bread and butter
Sliced cucumber salad
Tapioca cream with canned cherries
Coffee and milk
Friday's Dinner
Baked firm white fish with tartar sauce
Fried potatoes
Grapefruit salad
Bread and butter
Coffee and milk
Saturday's Dinner
Mashed potatoes
Bread and butter
Coffee and milk
Sunday's Dinner
Baked sweet potatoes
Buttered green beans
Whole wheat bread and butter
Lettuce wedges with 1000 Island dressing
Coffee and milk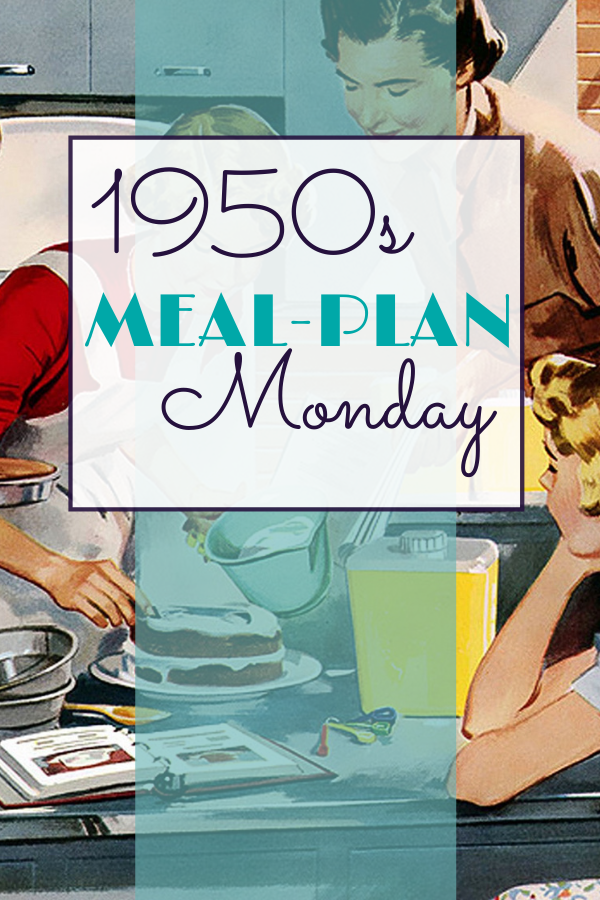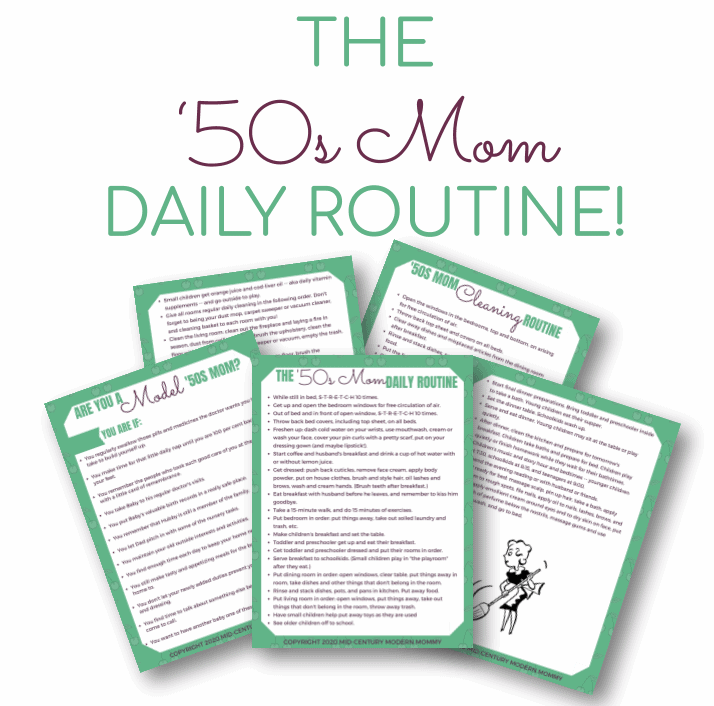 Get Our Mid-Century Mom Daily Routine FREE!
References
The Modern Family Cook Book, Meta Given, 1961
Sunset All-Western Cook Book, Genevieve Callahan, 1933