Thanks for subscribing! The 1950s Mom Daily Routine is flying to your inbox! So while you're waiting . . .
If you're wondering why ALL the planners you've tried just don't WORK with your vintage cleaning routine, keep scrolling . . .
When you're a modern-day '50s housewife and a mid-century mom,
There are some GREAT planners out there. But all of them are designed for a modern mom. They aren't designed for a modern-day 50s housewife. You need space for a full vintage cleaning routine, a top-notch menu plan (with appetizers!), and time for staying pretty.
You don't want the bare minimum. You want your BEST vintage life!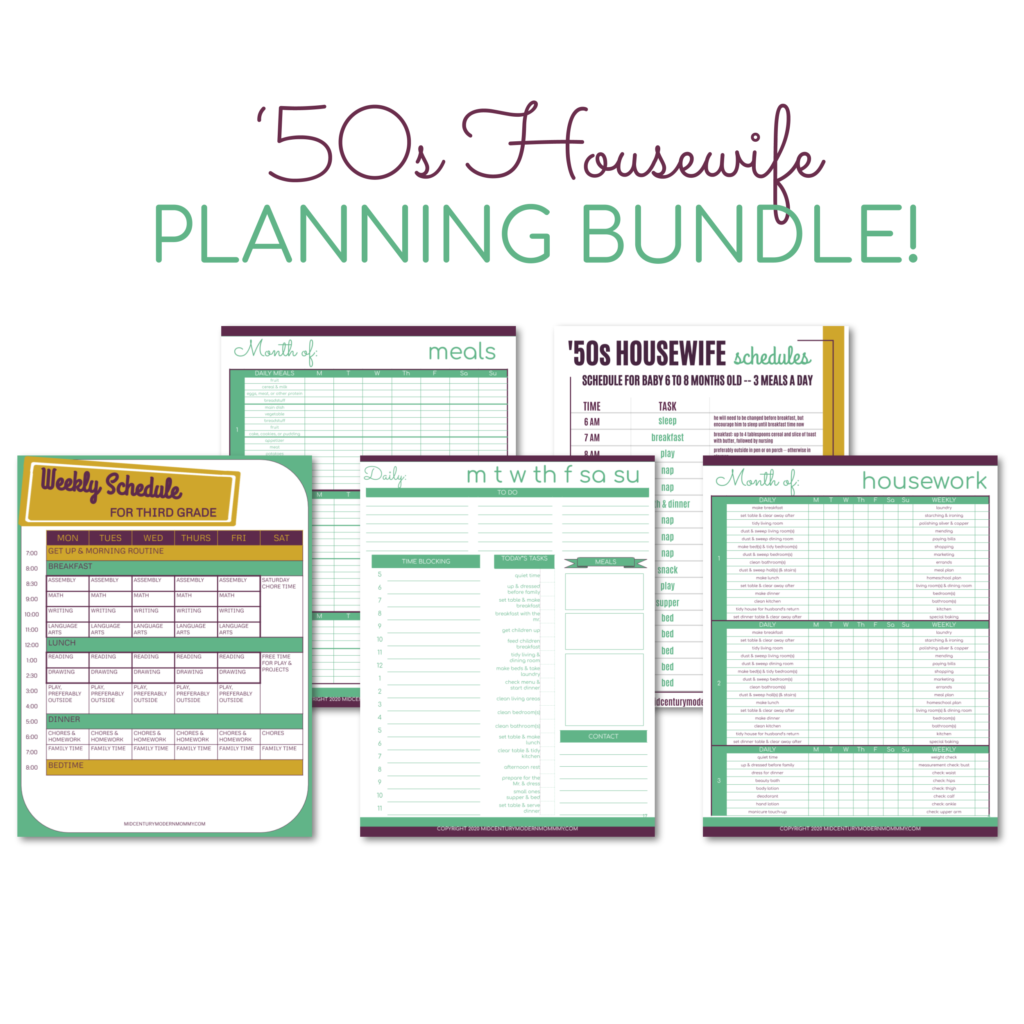 You deserve a planner that is DESIGNED for the modern-day '50s housewife! It should have space for all those extras that make your 50s housewife life gracious and glamorous!
The printable planner pages include:
Blank monthly calendar
Monthly trackers for vintage housekeeping, self-care, and spending
Monthly and weekly meal planners
Week-at-a-glance planner with vintage task checklists
Weekly tracker for daily vintage cleaning routines, with 2-bedroom-1-bathroom sheets, so you can print as many as your house has!
Single-page daily planner with time blocking, meal plan, and daily vintage tasks
Includes authentic '50s daily schedules for:
Housewife
1-month-old baby
2-month-old baby
3-month-old baby
4-month-old baby
5-month-old baby
6 to 8 months
8 to 12 months
12 to 15 months
15 to 18 months
18 to 24 months
2 to 5 years
Kindergarten
Also includes weekly homeschool schedules for every grade!
Use these pages to help you plan your days. Use the schedules for inspiration, or use them as-is, and see how well the vintage methods work! Manage your time like a 50s housewife and live your best life!
Value: $55 separately