This post contains affiliate links. If you click a link and make a purchase, I may receive, at no additional cost to you, a small commission. Find out more on my Disclosures page, and thank you so much for your support!
I apologize for getting this one out late! I'm still just not feeling well, and all the kerfuffle is not helping. This week, I decided to pull out my 1940s cookbook. (It comforts me in adversity!) In the 1940s, as opposed to the 1950s, housewives spent at least half of the decade rationing, making do, and being brave in the face of adversity. We can use a resurgence in those qualities these next few weeks. On that note, I offer the 1940s edition of Menu Monday for March 16 to 22.

Mid-Century Menu Monday Meals
I did my usual monthly grocery shopping about 2 days before the stores emptied. We live rurally, and my method of shopping is stocking up once a month, and then I get a weekly delivery of local produce and dairy during the month. Well, I got my stocking up done, but I won't be getting my weekly infusions of dairy and seasonal produce. I will be doing a "Use it up, wear it out, make it do, or do without" month. 
Monday
Broiled Chicken
Scalloped Potatoes
Buttered Broccoli
Rolls
Green-bean Salad
Tapioca Cream
Tuesday (St. Patrick's Day)
Old-Fashioned Boiled Dinner (Corned Beef, Potatoes, Turnips, Cabbage, Onions, Carrots, Beets)
Horse-Radish
Bread and Butter
Queen of Puddings
Wednesday
Cream of Corn Soup
Baked Hash (made with leftovers)
Spinach with Egg
Rolls
Chocolate Bread Pudding
Thursday (1st Day of Spring)
Bouillon
Celery Curls, Carrot Sticks, and Pickled Onions
Fricassee of Chicken with Dumplings
Parsley Potatoes
Buttered Peas
Lemon Sponge Pudding
Friday
Fish Chowder and Water Wafers
Grapefruit Salad
Graham Bread and Butter
Baked Apricot Whip
Saturday
Braised Pork Steaks with Grape Apples
Scalloped Carrots
Potato on the Half Shell
Rolls
Steamed Marmelade Pudding
Sunday
Roast Pork
Riced Potatoes
Corn Fritters
Rolls
Tomato Jelly Salad
Apple Pie
I had hoped to get the recipes into the Resource Library for you for this week, but I am still working on that. In the meantime, comment below telling me the recipe you'd most like to see, and I'll post it on the blog!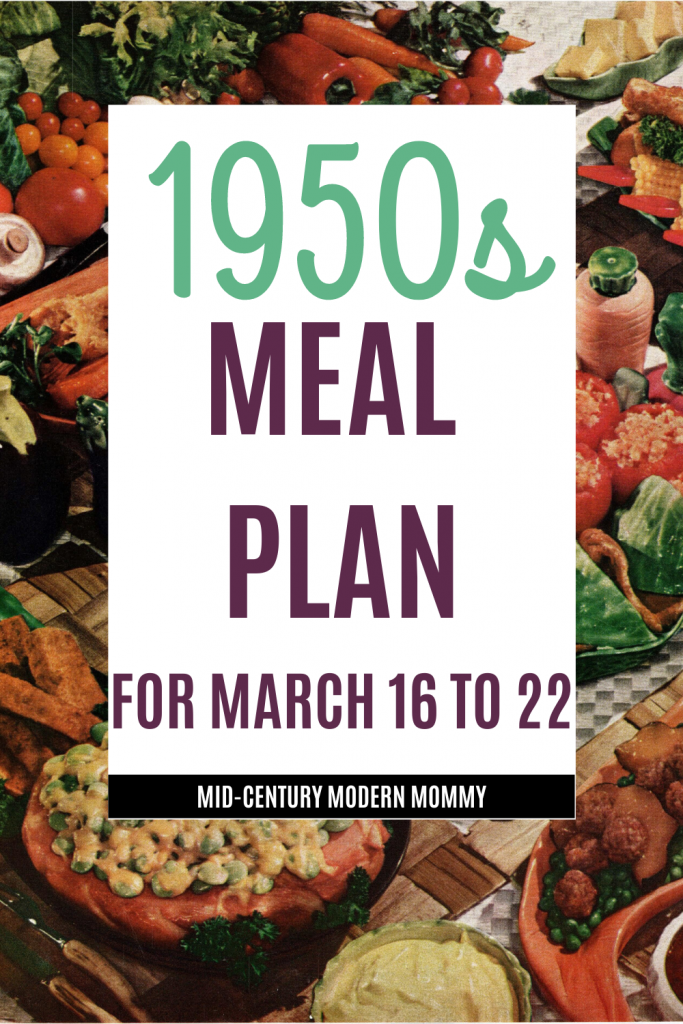 If you would like, you can check out the rest of my mid-century dinner menus. And if you make the menus, share a pic on Instagram and tag me! (Are you following me on Instagram? I share a lot of vintage homemaking quick wins over here!)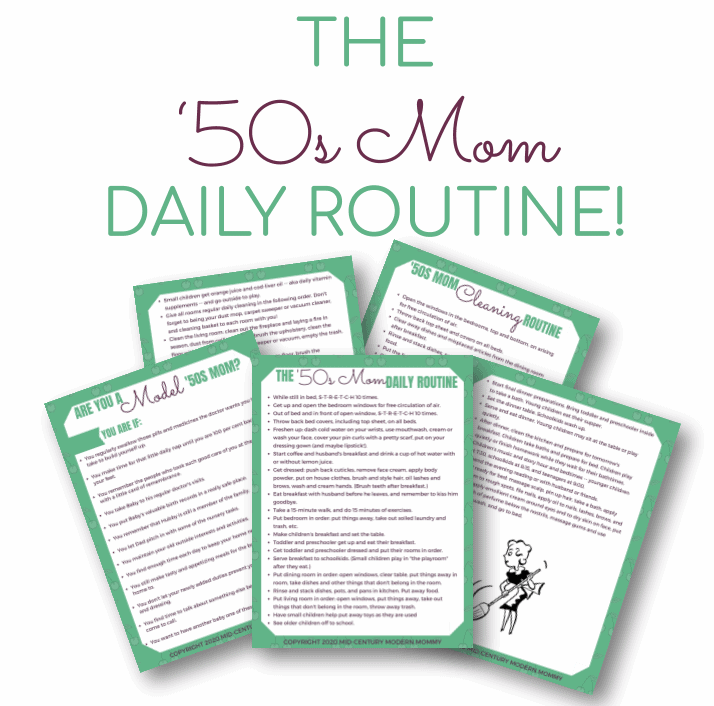 Get Our Mid-Century Mom Daily Routine FREE!