This post contains affiliate links. If you click a link and make a purchase, I may receive, at no additional cost to you, a small commission. Find out more on my Disclosures page, and thank you so much for your support!
In most homes, you only have to wash dishes from a proper dinner for 10 at Thanksgiving. I have to do it every single day. Believe me, I have learned the shortcuts for how to wash dishes by hand! Since I like a properly set table, I have serving dishes and pots and pans to wash, too. And I want my dishes to sparkle!
Dishwashing Made Easier
The first shortcut is that everything should be rinsed as soon as you are done using it. Pots and pans are easier to clean when water is run into them the moment they are emptied. Washing up as you cook, and leaving nothing but a few soaking pots and pans when you sit down to eat makes washing-up after dinner much easier.
A rubber scraper is a huge help in preparing dishes for washing. It gets almost all the food out. (Since we feed chickens and pigs with slops, all the little bits of food are better off going to them than down the drain!) Wipe out the last traces of fat after scraping with crumpled paper.
Use warm or hot water for rinsing almost everything. If a dish had milk or dairy, use cold water to rinse it.
Use hot soapy water to wash, and very hot water to rinse. It's a good idea to wash dishtowels and dishcloths in hot soapy water every day. (I wash them out and scald them, then hang them to dry after I use them.)
Dumping soap in the dishpan is wasteful. Measure out just enough to make a lively suds.
Supplies To Wash Dishes By Hand
These tools and supplies should be stored at the sink, where they are easily accessible:
Rubber plate scraper
Roll of paper towels or crumpled brown paper
Dishpan or sink drain plug
Dish soap — you can use modern liquid dish soaps, or old-fashioned Ivory soap in bars or flakes
Rubber gloves (optional — but I use them with Vaseline since my skin is so dry, and wash them out after every use)
Dishcloth, cellulose sponge, dish brush, or dish mop
Mild scouring powder — non-abrasive
Steel wool pad
Bottle brush
Brush for coffeemaker
Silver polish
Rouge cloth
Metal polish
Dish drainer
Dish towels
Hand lotion
Dishwashing with Dispatch
Preparation
Put away all the food
Put the cooking utensils to soak, if they haven't been soaked before you sat down to eat
Scrape dishes
Rinse dishes with hot water
Stack dishes according to size, shape, and washing order next to the sink
Washing
Prepare hot soapsuds
Wash in any preferred order. The usual order is:

Glassware
Silver
Dishes
Cooking utensils

Change the suds frequently. Dirty water won't make dishes clean.
Stack the dishes in the drainer as they are washed.
Rinse immediately with hot, not scalding, water so that soapy film won't dry on the dishes. A spray attachment for the faucet makes easy work of this
Dry glassware and silver with clean, lintless towels. If dishes are rinsed with hot water they will dry by themselves and can be put away at your convenience.
After washing
Put away the clean dishes
Refill the sink with hot soapsuds
Wash the dish drainer and the drainboard
Wash the work surface where the dirty dishes were stacked
Clean around sink and wash out sink or dishpan
Drain sink or dishpan, and wipe out with dishcloth
Wipe sink or dishpan dry with dishtowel; put away dishwashing supplies
Flush scalding water down the drain
And that is how to wash dishes by hand properly! At least once a day, you should also clean the kitchen, usually after you have prepared most of the food to cook later in the day.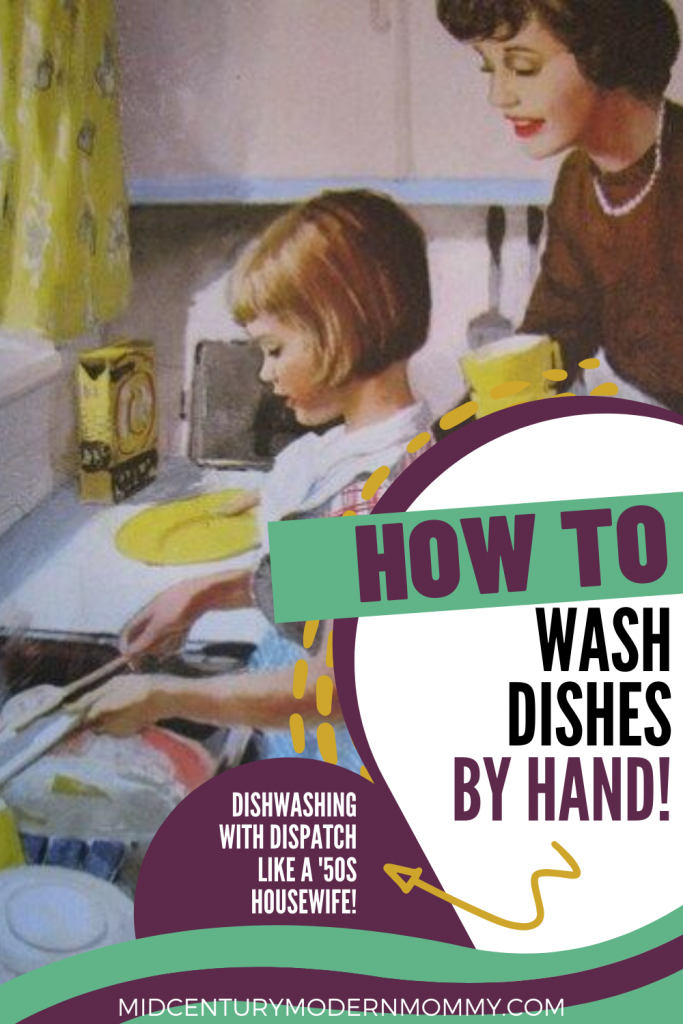 Wondering How to Fit It All In?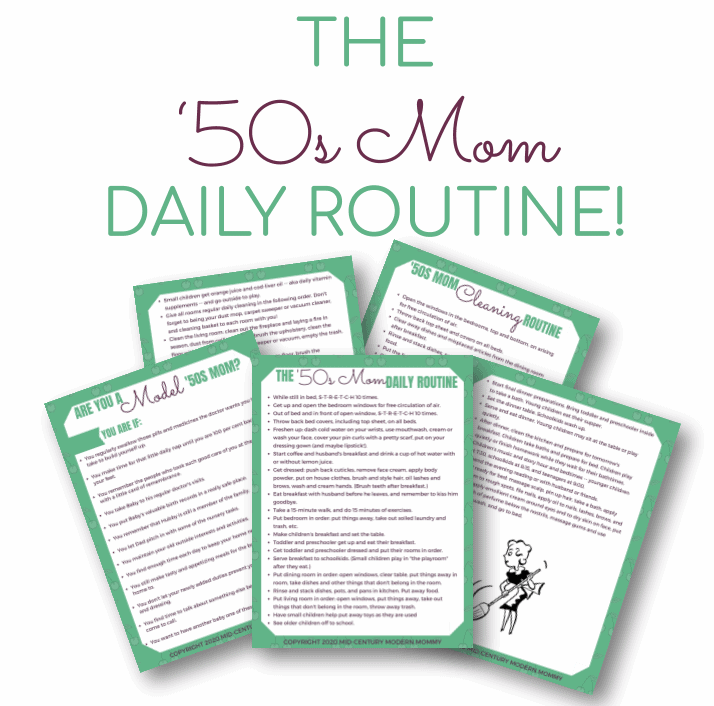 Get Our Mid-Century Mom Daily Routine FREE!